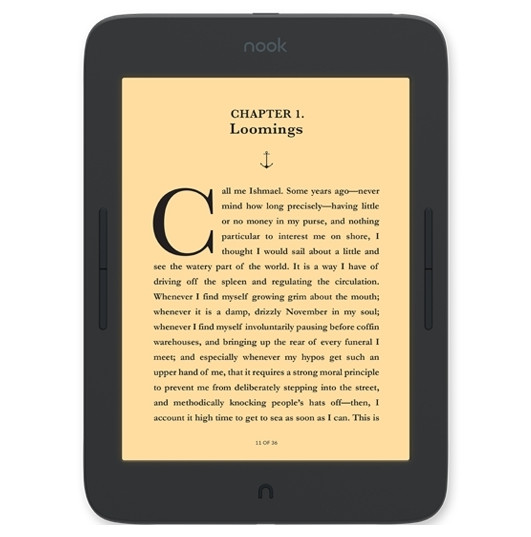 A lot of ebook readers have been going on sale lately, including Onyx's ereaders and the Kobo Clara HD, and now Barnes and Noble has put the Nook Glowlight Plus on sale as well.
The Nook Glowlight Plus normally sells for $199, but it's currently marked down to $179 with free shipping.
It's the least expensive 7.8-inch ebook reader available and now it's even cheaper. Oddly they've haven't put the 6-inch Nook on sale for a while.
The Glowlight Plus has a 300 ppi E Ink screen with a frontlight that has adjustable color temperature so you can use a warm color or a cool color or combine the two.
The device is also waterproof and it has physical page-turn buttons located on each side of the screen, both forward and back.
For specs it has 8GB of internal storage (6.4GB usable), Wi-Fi, microUSB, a headphone jack and Bluetooth to listen to B&N podcasts—it's surprising they never added audiobook support.
The Glowlight Plus supports ePub and PDF formats, including books with Adobe DRM.
Check out my Nook Glowlight Plus review for more details about the device and to see it in action in a video review.
In other Nook news, the Nook for PC app for Windows has reappeared after mysteriously going missing for several weeks and is now available to download to Windows computers again. It's good to see it's not gone for good.