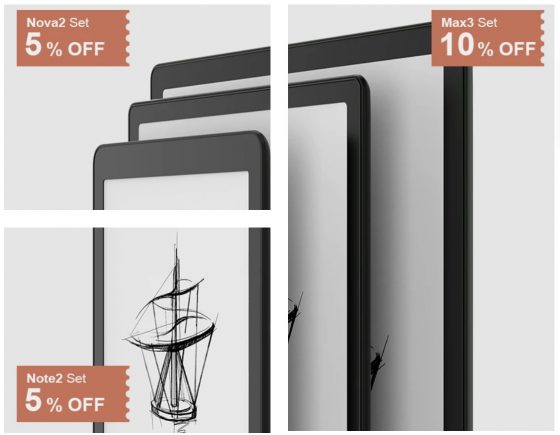 Onyx has rolled out a mid-year sales event for their lineup of Android-based ebook readers and digital notepads that starts today and runs through June 21st.
The deal takes 5% off the 7.8-inch Nova2 and 10.3-inch Note2, and 10% off the 13.3-inch Onyx Max3. The deal also includes some free accessories, like a cover, a screen protector, replacement stylus tips and a stylus tether.
So far the discounts are only showing up on the official Boox Shop website, not at Amazon, with the exception of the new black version of the Onyx Boox Max3, but there's no mention of the accessories pack being included.
At Amazon the Note2 and Nova2 aren't showing the discounted prices, but the Note2 does have the option to add the Boox Bluetooth keyboard for free in the special offers section, along with a charger adapter and marker tips.
Onyx is also hosting a YouTube Live video today with the opportunity to win an extra 5% discount on all purchases from the Boox Shop.
It's not being advertised as part of the mid-year sale but the previous generation Nova Pro is marked down to $249, and it comes with a cover, two screen protectors and replacement stylus tips. To me that's a better deal than 5% off the Nova2, but the Nova2 does have some upgraded specs and it runs a newer version of Android.
See my Nova2 review for a closer look, and here's the link to the Max3 review for more details about it.