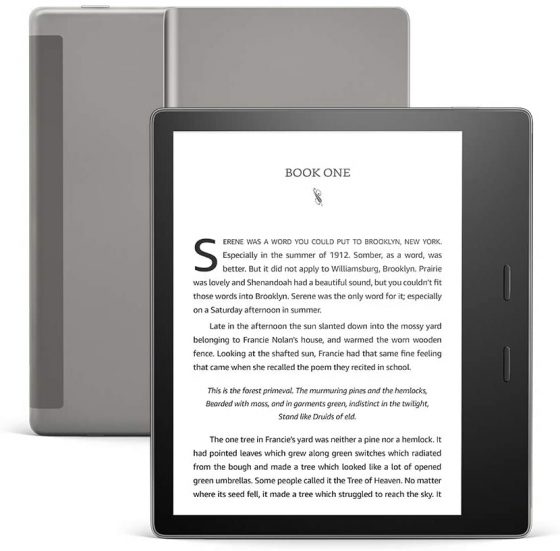 Back in 2016 when Kobo released the Kobo Aura One, it was Kobo's first dedicated ebook reader to come with 8GB of internal storage space, and even then some people were complaining that 8GB wasn't enough and that Kobo should have included a memory card slot as well.
My argument was that you couldn't possibly read 8GB worth of ebooks within the lifespan of an ebook reader before the device's battery would die.
With that much storage space you can easily fit upwards of five thousand average-sized ebooks, and even if you could somehow read one per day it would take over 13 years to read that many books.
But to this day many people still seem to think that more storage space is needed.
Most ebook readers come with 8GB or more these days, and Kobo and Amazon are happy to charge extra for models with 32GB of internal storage space, and people often ask if it's worth paying more for the 32GB versions.
Unless you are downloading audiobooks or massive amounts of comics and manga, then realistically you're never going to need anywhere close to 32GB of storage space on an ebook reader.
PDFs are one argument, but with devices like Kindles and Kobos the idea of using such a small screen for massive PDF libraries doesn't make much sense either.
Some people are digital hoarders but I'm kind of the opposite of that. My Kindle Oasis usually only has about a dozen ebooks downloaded at one time. Nine times out of ten when I finish a book the first thing I do is remove it from the device. This is because I got in the habit of reading library ebooks, so when I would finish one I would return it right away.
Most books I don't care about reading a second time anyway, and the few that I do reread I'm not going to do so for another 5-10 years. The way I look at it is I don't want a book I've read clogging up the library view for the next decade, at which time I'll be using a different reading device anyway.
On smaller ebook readers I could get by with less than 1GB of storage space easily because I have no problem relying on cloud storage. On larger multipurpose devices like the Onyx Note 2 I need more space for PDFs and other stuff, and since it comes with 64GB of space that's never going to be a problem, but on dedicated ebook readers like Kindles and Kobos I don't need much space at all.
So what about you? How much storage space do you really use on your ebook reader? Not how much do you think you need, but how much do you actually use?