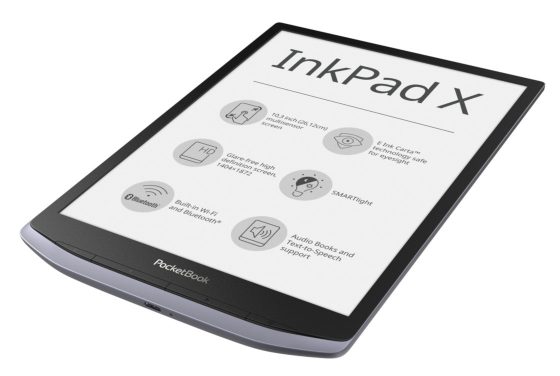 PocketBook recently started selling their ebook readers in the US on Newegg, and they currently have the PocketBook InkPad X on sale for $399 with free shipping.
The InkPad X is PocketBook's largest model. It has a 10.3-inch E Ink Mobius display and a frontlight with adjustable color temperature. It has 32GB of storage space, 1GB of RAM, and a dual-core 1GHZ processor.
The regular price is $450 so that's about 11% off. I don't know how long the sale is going to last but it's nice to see the prices continuing to go down on these larger E Ink ereaders.
A number of the newer generation E Ink devices with flexible 10.3-inch screens have dipped below the $400 mark now. There was a time when you had to spend $399 just to get a 6-inch Kindle.
I still think the Onyx Note Pro is a better deal at that price because of the upgraded specs and added features, like a Wacom touchscreen for notetaking, but it looks like it's about to go out of stock again.
Nonetheless, the PocketBook InkPad X is another large-screen ebook reader at that price point. Other options include the Sony DPT-CP1, but it doesn't have a frontlight and only supports PDF format, and there's the Remarkable 2, but it's been delayed and is more of a digital notepad than an ereader.
PocketBook is a brand that has been around for a long time outside the US. Their custom Linux-based software supports 19 ebook formats, most notably ePub and PDF. The PocketBook InkPad X supports audio files and text-to-speech as well, and can stream audio via Bluetooth or with a USB adapter.