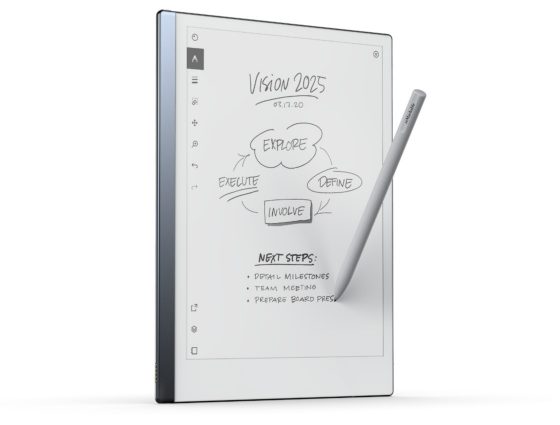 There's going to be a new Remarkable note-taking and reading device on the market soon from the Norwegian company that released the first Remarkable Paper Tablet back in 2017.
The Remarkable 2 is expected to start shipping in June, and they're accepting pre-orders now for $399, which includes a marker and a folio at that price.
The Remarkable 2 features a new thinner design, an upgraded screen, a faster processor, and longer battery life.
Like the original Remarkable, the software is largely geared towards writing and drawing, but the device also doubles as a reading device that supports ePub (DRM free) and PDF formats.
There's also going to be a Google Chrome plug-in that allows you to send reformatted web articles to the Remarkable.
Overall it appears to be a solid upgrade. The design is a lot sleeker than the original Remarkable, and it's surprising how they were able to shave $100 off the price while still making a number of improvements.
Here are the key specs from the press release:
Fact sheet:
Thinness: At 0.19 in/4.7 mm the reMarkable 2 is the world's thinnest tablet
Weight: 14.2 oz (405 g)
Display: Second-generation ​CANVAS display. 10.3" monochrome digital paper display. Partially powered by E Ink technology. Multi-point capacitive touch.
Paper-feel: The reMarkable 2 has the world's most paper-like digital display. This is due to a combination of its record-breaking 21ms latency, special pen tip material, paper-textured surface layer, realistic ink flow and brushes, incredibly short distance from cover layer to ink, and pen pressure and tilt sensitivity.
Resolution:​ 1872×1404 resolution (226 DPI)
Connectivity:​ Wi-Fi connected. Wi-Fi 2.4GHz and 5GHz
Storage and RAM:​ 8 GB internal storage (100,000 pages), 1 GB LPDDR3 SDRAM
Battery: ​Rechargeable (USB-C) 3000 mAh
Battery life: ​Two weeks of battery. 90 days of standby time
Processor:​ 1.2 GHz dual-core ARM
Operating system: ​Codex — a purposely designed Linux-based operating system for low-latency digital paper displays
Document support: Import: ​PDF and ePUB document support. Export: ​PDF, PNG, SVG
Menu language:​ English only
Introducing Remarkable 2 — the paper tablet