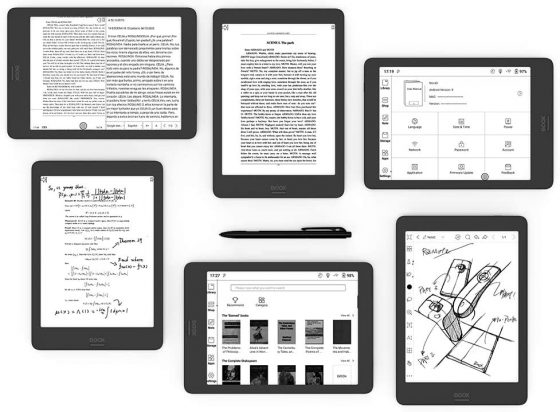 Onyx has released a new firmware update for their current lineup of Boox devices, including the Max3, the Note2, the Nova2 and the Poke2. Other models will get the update in a few weeks.
The new 2.3.1 software update adds some new features and fixes a number of bugs.
Among the changes is the ability to set different sections as the home page.
Instead of going to the Library view when hitting the home button, you can now set it to go to other areas of the interface, such as the Notes section, the App drawer, or Storage section.
Onyx also added some new customizable features to the Floating Toolbar that was added in the last update, and now it's available in the Notes app as well.
They also added the option to have handwritten notes converted to typed notes in the NeoReader app, and they added a new Calendar Memo app, which is pretty handy. There are some new options to customize the screensaver image as well.
You can download the 2.3.1 update to your Boox device by going to Settings > Firmware Update. The download files will also be available from Onyx's support website, but as of this writing the links haven't been updated yet.
Here's the changelog for the 2.3.1 update:
New features

Support homepage tab customization;
The Floating Toolbar for reading is customizable in functions and sizes;
Handwritten notes for NeoReader supports AI recognition (double-tap on the handwriting can initiate the recognition);
Add Floating Toolbar for Note, which is customizable;
Add Brush stroke to Note App;
Optimize the embedded speed of notes;
Screen saver type is customizable (this will clear the original screen saver);
Add Calendar notes;
Add Bing Translate in Reader\Dictionary. (Google Translate is not supported currently.

Main bug fixes

Fix the problem that lines appear during reading handwriting.
Fix the abnormal problem of some txt's TOC.
Fix the problem that the synchronization is slow and failed when there are a lot of notes.
Fix the occasionally frozen issue during note-taking.
Fix the frozen issue of the lasso tool.
Fix the problem that the inserted large pictures into notes show disproportionately.
Fixed the problem that the export of notes to third parties failed and the number of pages was incorrect.
Fix the problem that the feedback history disappears.
Fix the problem that the lock screen keyboard does not display numbers.
Fix the problem that the device may automatically restart occasionally.
Fix the problem that buttons of Navigation Ball may not respond when tapped.
Fix Dropbox sync failure.
Other bug fixes and UI optimization.