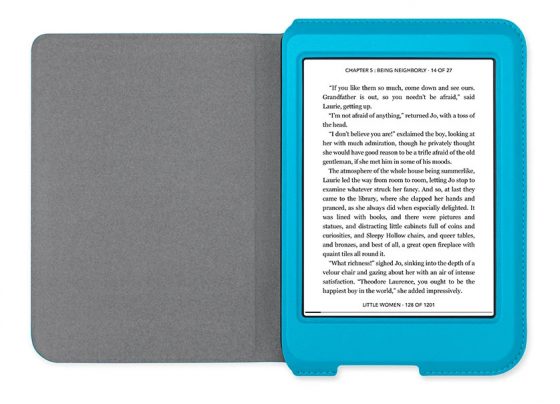 Yesterday Kobo officially unveiled their latest ebook reader, the Kobo Nia, and while there isn't a single thing "new" about it other than the name, it does have a very unusual cover.
In fact the cover is the most interesting thing about the Kobo Nia, and at $19.99 it's actually reasonably priced for a change.
The weird thing about Kobo's official Kobo Nia sleepcover is the fact that it encases the entire front bezel of the device, which is especially odd considering the Nia has an indented screen.
I've seen cases that partially cover the bezel before but I've never seen one quite like this.
Personally I think it looks goofy and I never liked cases that cover the bezel, but to each their own. I like the Clara HD cover better because it's narrow, lightweight, and it doubles as a stand.
With that much extra material going over the front it's certainly going to add to the overall weight and thickness of the device, but Kobo does not specify the weight of their covers.
The Kobo Nia cover is available in three colors—Aqua, Lemon, and Black—and it's made out of artificial leather. It has the automatic wake/sleep feature when opening and closing the cover.
I can't help but wonder if the Kobo Nia was initially supposed to be a model marketed towards children like the Kindle Kids Edition that Amazon sells. With the bright colors and unusual design of the cover, it does have a kids feel to it.
What do you think of the new Kobo Nia sleepcover?