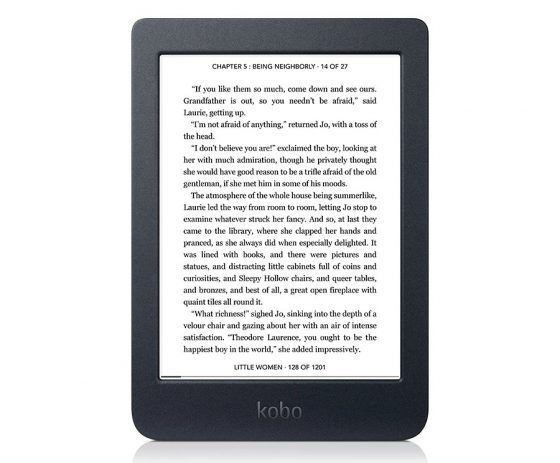 Kobo has officially announced the upcoming release of a new entry-level ebook reader called the Kobo Nia that will be available starting July 21st.
The Kobo Nia has a 6-inch E Ink Carta screen with a resolution of 1024 × 758 (212 ppi). It has a frontlight too, but unlike other Kobos, it does not have adjustable color temperature.
As mentioned in an earlier post, there's really not a single thing "new" about the Kobo Nia, and frankly releasing a device like this doesn't make a lot of sense.
Basically all Kobo did was put their previous entry-level ereader, the Kobo Aura 2, inside a new casing and renamed it the Kobo Nia. The only "upgrade" is they bumped the storage space from 4GB to 8GB for the few that want to carry more than 3000 books on their device.
This type of practice of releasing a new device with no improvements is fairly common when it come to E Ink ebook readers, but the price of the Kobo Nia is the real head-scratcher.
At $99 USD, the Kobo Nia is a better value than the entry-level Kindle that sells for $89 because the Nia has a higher resolution screen (212 ppi vs 167 ppi) and it doesn't cost an extra $20 to remove the Special Offers (ads).
But compared to the Kobo Clara HD the Nia is a bad deal. The Clara HD only costs $20 more than the Nia, and the Clara HD often goes on sale for $99, sometimes $89. The Clara HD has a higher resolution screen with 300 ppi and it also has a better frontlight with adjustable color temperature. It's also a bit thinner and lighter. You're much better off spending an extra $20 on the Clara HD or waiting for it to go on sale than buying a Nia for nearly the same price.
Amazon's pricing makes more sense because there's a $40 price difference between the entry-level model and the Kindle Paperwhite, and the entry-level model often goes on sale for $65. If Kobo ever drops the price of the Nia to that level then it has the potential to be a good deal, but that remains to be seen.
The Kobo Nia isn't a bad device but compared to the Clara HD it's an impulse buy for the uninformed buyer that hasn't done any research.
I just hope that Kobo doesn't discontinue the Clara HD now in favor of the cheaper Nia. That's exactly what they did to the Kobo Glo HD after releasing the inferior Kobo Aura 2 in 2016.
Kobo Nia – Love the way you read