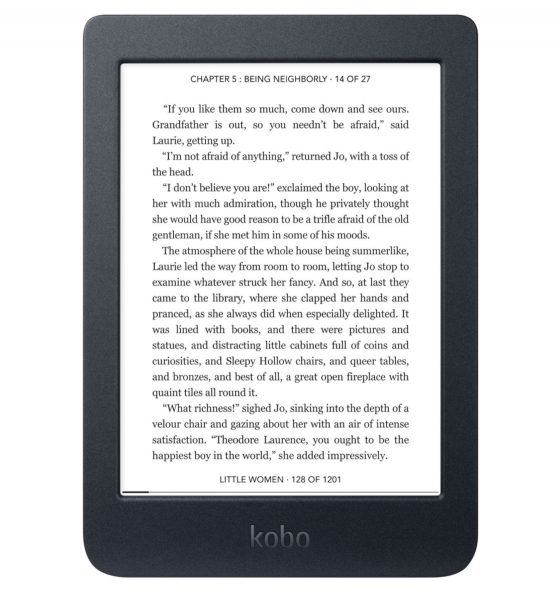 Kobo is releasing a new 6-inch ebook reader for 2020 called the Kobo Nia.
Whenever Kobo releases a new model it shows up early on one of their retailer's websites, and the Nia is no exception. It appeared on Staples' website a couple weeks ago and now Best Buy Canada has the Kobo Nia listed for $129 CAD, with an expected delivery date of July 9th.
I'd expect the Kobo Nia to show up on Kobo's website soon. The list price will likely be $109 USD.
The Kobo Nia has a 6-inch E Ink screen with 212 ppi. It has a frontlight but the color tone is not adjustable like other Kobos.
The weird thing about the Kobo Nia is there really isn't anything new about it other than the name. It has the same exact hardware as the Tolino Page 2 that was released last fall. Kobo basically took the Kobo Aura 2, which was discontinued earlier this year, and stuck it inside a Kobo Clara HD case with a couple of minor changes (the USB port was switched to the left side and the Kobo logo is darker).
The Kobo Nia has the same screen and main specs as the Kobo Aura 2. The only real difference is the Nia has 8GB of internal storage instead of 4GB, so for the few that need to carry 6000 ebooks instead of only 3000 consider it a win.
With a 212 ppi screen the Nia is a step up from the entry-level Kindle, so Kobo has an advantage there, but for only $10 more the Kobo Clara HD adds a higher resolution 300 ppi E Ink screen and a frontlight with adjustable color temperature.
On the surface the price of the Kobo Nia doesn't make any sense being only $10 less than the Kobo Clara HD. Who wouldn't pay $10 more to get a better screen and a better frontlight? But it was the same thing with the Aura 2. Once the Nia goes on sale in the sub-$80 range the price will make more sense. For the most part you're better off spending a little more on the Clara HD, but Kobo wants to have a lower-end model to compete with the entry-level Kindle.