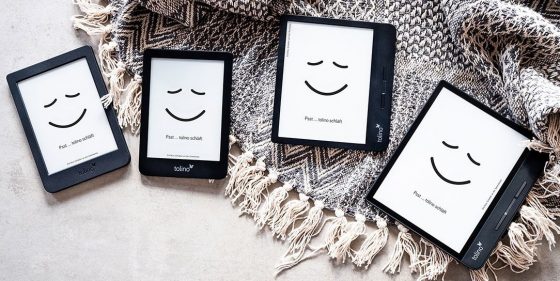 The Tolino Alliance released a new lineup of ebook readers this week, and what's interesting is they're all Kobo clones but they run Android-based software instead of Kobo's software.
There's the Tolino Page 2, a 6-inch entry-level model that appears to be a clone of the Kobo Aura 2, except it has 8GB of storage space instead of 4GB.
The Tolino Vision 5 is a 7-inch ebook reader with page buttons and waterproofing—it's a Kobo Libra clone.
Lastly, the new Tolino Epic 2 is a Kobo Forma clone, with an 8-inch plastic-based E Ink screen with a flush front and a waterproof design.
It's odd to see Kobo's devices being sold under a different name and with different software installed. But this isn't anything new. Ever since Kobo partnered with the Tolino Alliance they've been using Kobo hardware for Tolino ereaders.
Tolino ebook readers are available in Germany and other parts of Europe, but they are not sold in North America at all. The new models are available now from authorized retailers.