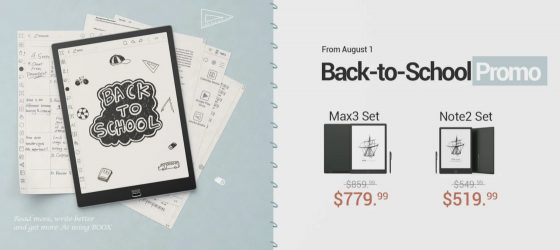 Onyx has rolled out a back-to-school sale for their flagship Max3 and Note2 ereaders and digital notepads that are essentially E Ink tablets.
Both devices are on sale at Amazon and directly from Onyx's website.
The 13.3-inch Onyx Boox Max3 is marked down to $779 with free shipping. That's $80 off the regular price. It's Onyx's largest device. It's especially good for PDFs, and it can also be used as an E Ink monitor thanks to the HDMI port (it's the only Onyx model that has one, and it's also the only model without a frontlight). More details can be found on my Max3 review page.
The 10.3-inch Onyx Boox Note2 is marked down to $519 with free shipping, which is $30 off the regular price. The special offers section also shows that you can add a case to the order for free, which normally sells for $40.
As far as hardware, these devices have 2.0 GHz octa-core processors and 4GB of RAM, with 64GB for storage. They have Bluetooth and support dual band WiFi. The USB-C port supports OTG for connecting storage devices and things like keyboards. Both have a fingerprint sensor and a Wacom touchscreen for writing and drawing with an included stylus. The Note2 adds a frontlight with adjustable color temperature.
Both devices run Onyx's customized version of Android 9.0. They have Google Play support and can install Android apps, including the Kindle app, which works surprisingly well. Onyx's built-in reading app supports a number of formats, notably ePub and PDF, and you can use the stylus to write directly on ebooks and PDFs.
If you happened to purchase one of these devices within seven days before the sale started on August 1st, you can contact Onyx about their price-matching policy.