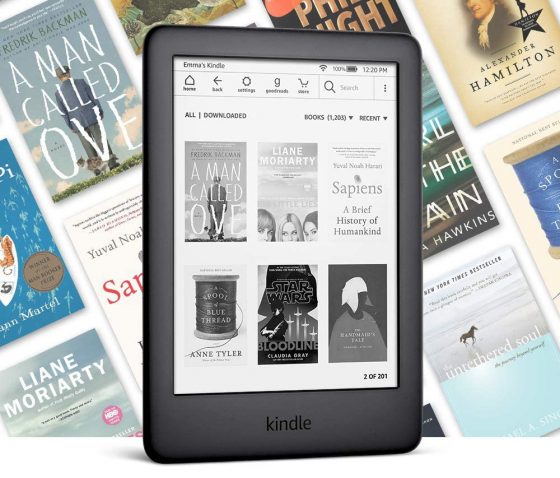 Amazon has steadily added new software features to Kindles over the years through software updates. They usually release a new update every few months.
Sometimes the updates add useful new features and sometimes they just fix random bugs.
Lately most of the new software features haven't been very interesting. They keep changing the user interface around, while not really adding anything new.
To be fair, Kindles already have a ton of useful features, but some improvements can always be made.
Here's a list of five things that I would like to see improved with Kindle software. Feel free to add your own list in the comments section.
1. More Font and Layout Settings – The last major useful feature that Amazon added to Kindles was the ability to sideload additional font styles, but Kindles still have a limited amount of layout options. They've had the same three margin and line-spacing settings forever, and the margin settings aren't useful. It would be nice to have greater control over the layout like other reading devices and apps offer. I would also like to see more font sizes added.
2. Bookcovers on Sleep Screen – Instead of having to look at advertisements or odd pictures of shapes and pencils, it would be great if Kindles had the option to show the cover of the book that you're currently reading on the screen while the device is turned off in sleep mode. There is some evidence hidden in the software code that implies this could eventually happen but that remains to be seen.
3. Quick Frontlight Adjustment – Kobo ereaders have a feature that lets you quickly and easily adjust the frontlight level without opening any menus. All you have to do is slide a finger up or down the left side of the screen to adjust the light level. It's a great feature, and it's not like it's patented so Kindles should have it too.
4. Text-to-Speech – Kindles used to have a dedicated text-to-speech feature that gave users the ability to listen to their ebooks in addition to reading them. Then Amazon removed the feature and replaced it with VoiceView, which is similar but it's designed for those with vision problems so it requires navigating the device using various touch gestures instead of the usual way. It would be great if the regular TTS feature came back without changing the navigation options, like what's available on Fire tablets.
5. Improved Collections – I know a lot of people would like to see an improvement to the collection system. Personally I never use collections because I don't want to sit down and manually create them and then go through and add every individual book to a collection—that's too much work. But I would like to see some kind of automatic tagging or collections feature. For instance, I've never understood why books are sorted into genres at Amazon but you can't view Kindle books that you've purchased by genres. Why can't we at least filter fiction from non-fiction?