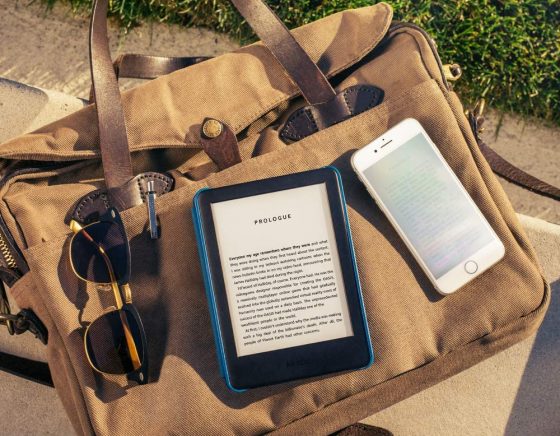 Many people read Kindle ebooks on a tablet or phone using a Kindle app, but some choose to read on a Kindle e-reader instead.
If you've only ever read Kindle ebooks using a tablet or phone you might wonder why anyone would bother with buying another device when you can use something you already own.
Some are content to read ebooks on a phone or tablet if that's what works best for them, but others prefer reading on a dedicated Kindle e-reader because it provides a superior reading experience.
One way isn't necessarily better than the other, and it depends on what type of content you consume, but most people who use a Kindle e-reader to read ebooks agree that it's an upgrade over using a Kindle app on a phone or tablet.
Here are the main reasons why some people upgrade to reading on a Kindle e-reader:
E Ink Display – Kindle e-readers use a completely different type of screen technology than tablets and phones that can be easier on your eyes, especially with long reading sessions. Text looks more like printed ink on paper with E Ink screens so it has more of a book-like appearance. Unlike LCD screens, E Ink screens can be viewed in direct sunlight without glare or a loss of clarity, as the picture at the top of this post illustrates. In fact E Ink screens look better under bright light. Plus E Ink screens don't emit light like LCD screens. Most have frontlights these days, but the light is directed toward the screen, not your eyes, and the light isn't as bright.
Battery Life – Dedicated ebook readers have smaller batteries than most phones and tablets, but a battery charge lasts much longer because E Ink screens are very energy efficient and only require power to change the contents on the screen. Plus E Ink screens aren't backlit, and the LED frontlights don't use as much power and can be turned off.
Lightweight – Kindles are very lightweight for their size, much lighter than a typical tablet. For example, the Fire 7 tablet weighs 286 grams and the 7-inch Kindle Oasis weighs only 188 grams, making it a lot easier to hold when reading.
No Distractions – One of the best things about dedicated ebook readers is you can focus on reading without any distracting email alerts, push notifications, or social media nonsense. Kindles are designed for reading only (and you can listen to audiobooks too).
Added Features – Depending on the model, Kindles have some extra features that a phone or tablet may not have, such as dedicated page buttons, waterproofing, adjustable light color, high resolution 300 ppi E Ink screens, auto-adjusting light sensor, screen reader, etc.