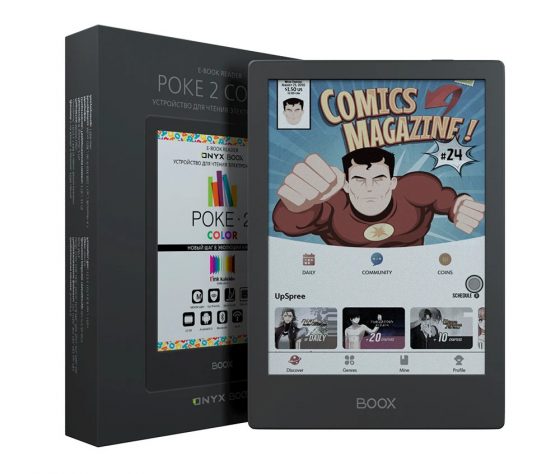 Today Onyx has officially released their first ebook reader that uses E Ink's new color Kaleido screen technology.
Like the PocketBook Color that was just released, the Poke2 Color has a 6-inch E Ink screen that can display 4096 colors. Text renders at 300 ppi, but because of the way the color filter works color content renders at 100 ppi.
The Poke2 Color has a high early-adopters price of $299. It's available to purchase from Onyx's website and from one of Onyx's resellers on Amazon (oddly Onyx currently doesn't have it listed on their own Amazon store).
The $299 price is a lot higher than 6-inch ereaders with monochrome E Ink screens ($110 higher than the regular Poke2, which is pricier than most itself). But if you want a color E Ink screen there aren't many options.
The Poke2 Color has some pretty nice specs. It has a 2.0GHz octa-core processor with 2GB of RAM and 32GB of storage. It has a frontlight but lacks color temperature adjustment, and it supports dual band Wi-Fi and USB OTG. It has a 1500mAh battery and microUSB port. The device weighs only 150 grams.
Like Onyx's other Android devices, the Poke2 Color runs Android 9.0 and is open to install apps, including the Kindle app, so that makes it a lot more versatile than a typical e-reader. Unfortunately it doesn't have a Wacom touchscreen like Onyx's larger models.
Stay tuned for a full review of the Poke2 Color later this month!
Correction: The article initially stated the frontlight had adjustable color temperature, but it turns out that is not the case. It just has a regular frontlight.