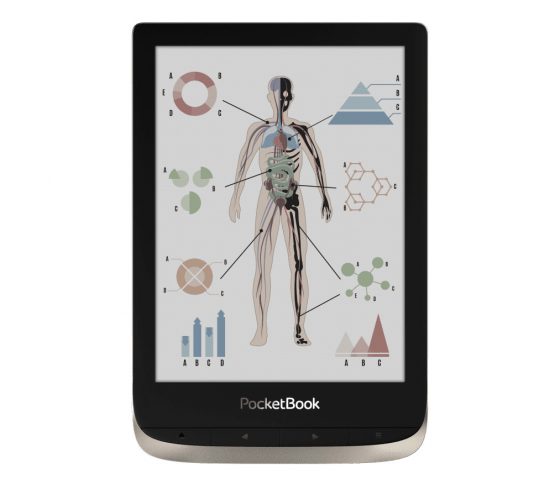 If you want to get one of the first ebook readers with a color E Ink screen, the PocketBook Color has landed on Newegg with shipping to the US, and it's cheaper than you might expect.
Unlike the Poke2 Color from Onyx that sells for $299, the PocketBook Color comes in at a reasonable $229, plus $7.68 for shipping.
However, the specs are considerably lower on the PocketBook and it doesn't run Android so it can't install Android apps, but it goes to show the color E Ink screens aren't as expensive as Onyx would lead us to believe with the Poke2 Color.
PocketBook's new mid-level model, the PocketBook Lux 5, is available on Newegg as well, and it's $100 cheaper than the color version at $129.
Both models have 6-inch E Ink screens. The PocketBook Color has 100 ppi for color and 300 ppi for black and white content, but the color filter reduces contrast. Check my Color E Ink Review for a closer look. The Touch Lux 5 has a regular 212 ppi E Ink Carta screen.
Both have frontlights and both have a dual-core 1GHz processor. Both have microSD card slots for cards up to 32GB, along with micro USB ports and Wi-Fi. Update: The Touch Lux has a frontlight with adjustable color temperature, but it appears the PocketBook Color might just have a regular frontlight (in the initial press release they said it had color adjustment too but now the listings don't mention it).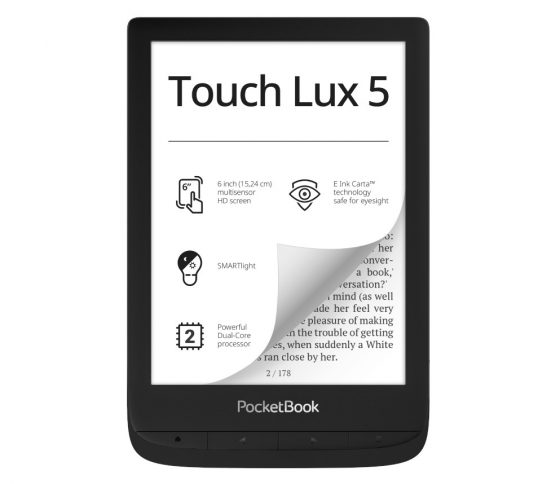 The Touch Lux 5 has 8GB of storage with 512MB of RAM and the Color has 16GB with 1GB of RAM. The Color also adds Bluetooth and audio support for text-to-speech and the following audio files: M4A, M4B, OGG, OGG.ZIP, MP3, MP3.ZIP.
Here's the list of supported text and image formats: ACSM, CBR, CBZ, CHM, DJVU, DOC, DOCX, EPUB, EPUB(DRM), FB2, FB2.ZIP, HTM, HTML, MOBI, PDF, PDF (DRM), PRC, RTF, TXT, JPEG, BMP, PNG, TIFF.
PocketBook is a brand that has been around for a long time in the ebook reader industry, but they haven't had any distribution in the US for many years, up until recently when they started selling on Newegg.
PocketBook is a good alternative to Kindles and Kobos. I haven't reviewed a PocketBook since 2011 so it's been a long time. But I plan on reviewing one of these two. I like how they have buttons along the bottom like Sony's ereaders used to have.