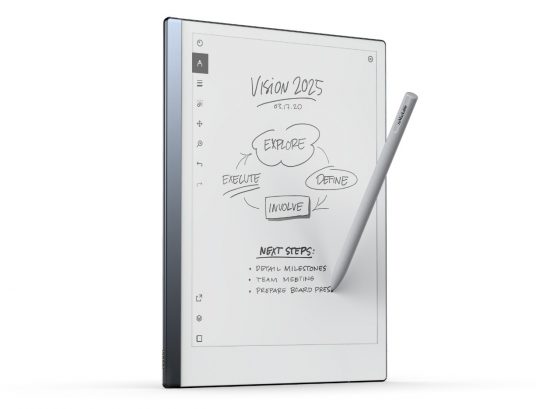 Review Date: August 2020 – Review unit and accessories provided for free by Remarkable
Overview
The release of the 2nd generation Remarkable tablet comes nearly three years after the release of the original Remarkable tablet in September 2017.
The Remarkable 2 is a device designed specifically for writing and drawing, with the intention of replicating the feeling and appearance of writing on paper. It comes with a stylus and has a 10.3-inch E Ink screen like the original Remarkable, but the new model features a sleek new design and some notable upgrades, including a faster processor, more RAM, lower latency, longer battery life, and USB-C.
They also managed to drop the price by $100, even with the hardware upgrades. The Remarkable 2 sells for $399 from the Remarkable website. They ship to over 30 countries, and the device comes with a 30-day satisfaction guarantee so you can return it if you don't like it. Update: The Remarkable is now sold at Best Buy in the US too.
Remarkable 2 Review
Pros
New design is very nice, feels like a premium device with the aluminum frame and super thin design, and the screen has a light texture that gives it a paper-like feel.
Better writing experience than LCD tablets and other E Ink notepads.
Reasonable price for a 10.3-inch E Ink device considering the solid build quality.
Cons
Requires using a Remarkable account/app to transfer and sync content—it doesn't support syncing with 3rd party services like OneNote or Dropbox.
No web browser, no frontlight, limited storage space.
More of a notepad than an ereader, with fewer reading features than a dedicated ebook reader like a Kindle or Kobo.
Verdict
When I reviewed the original Remarkable, my main complaint was the reading features were underdeveloped. After three years not much has changed in that regard. The Remarkable 2 is still better for writing and drawing than it is for reading ebooks and PDFs. It can function as a serviceable ereader if you don't have high demands, but there are better devices for that purpose.
The Remarkable 2 excels at providing a paper-like writing experience with a minimum of distractions. At its core it is designed for writing—that's what it does well, better than anything else on the current market. If you need a dedicated notepad the Remarkable is the device to get. Just don't expect a Kindle-like set of reading features.
Remarkable 2 Video Review
Hardware and Design
One of the best things about the Remarkable 2 is the new design is a nice upgrade from the 1st generation model—it feels more like a premium device. It has an aluminum frame that's very solid, and the device is surprisingly thin at just 4.7mm.

The left side is a bit wider, which is nice because it gives you something to hold onto, and both sides are magnetic—the left side attaches to a case that they sell separately and the right side holds the stylus securely in place.
They did away with the page-turn buttons, which makes sense for a notepad. The front is one flush layer and on the back there are tiny rubber pads at each corner to keep the device from sliding around on a table or desk while writing.
Like the original model, the Remarkable 2 has a non-frontlit 10.3-inch 226ppi E Ink screen, but the screen looks better on this model—it's less dark.
There's a slight bit of texture on the screen and on the stylus tips that provides a more natural writing experience than writing on an iPad with a hard clanky stylus. Writing latency is lower on the Remarkable 2 at just 21ms, so there is no noticeable delay when using the stylus.
They upgraded to USB-C on this model, battery life was increased to 2 weeks, RAM was doubled to 1GB, and it has a faster dual-core 1.2GHz processor—which doesn't sound like a lot but it's pretty standard for E Ink. The device can get bogged down when loading a bunch of thumbnails in multipage view, but overall it runs fairly smoothly.
They offer two different styluses, one black and one white. They are mostly the same but the black one adds an eraser. They have a nice grippy texture and feel a lot nicer than the cheap plastic stylus that comes with most E Ink notepads.
One area they didn't improve on was the available storage space, which is still just 8GB, with about 7GB usable, and there is no memory card slot.
Transferring Files
To load files onto the Remarkable tablet you are required to setup a Remarkable account to use their desktop and mobile apps to transfer ePub ebooks and PDF documents.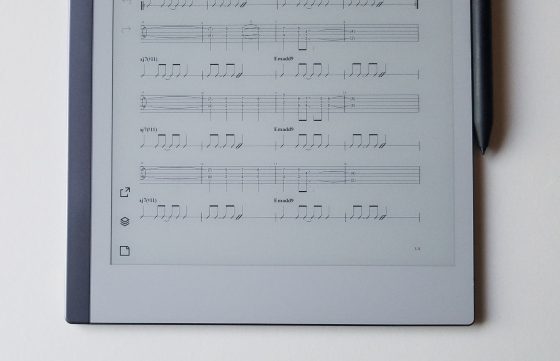 You also have the option to transfer files from your computer by USB using a web browser interface, and then the files will sync with your account after turning on Wi-Fi. But after three years USB transfer is still listed as an experimental beta feature.
On the plus side all your notes and documents automatically get synced across devices so you can easily access them on your phone or computer, and everything gets backed up in the cloud.
On the down side, there is no option to access the Remarkable as a regular removable drive on a computer to easily add and remove files the old fashioned way, and there is no support for outside services like OneNote, Dropbox, or Google Drive.
Everything has to be funneled through your Remarkable account. It's free to use and they don't charge anything for your cloud storage so it's not like they're profiting off of it, so I don't understand why they force you to use a Remarkable account and Remarkable apps if you'd rather just transfer via USB.
Writing and Drawing Features
The Remarkable has a Linux-based operating system. On the homescreen you can view files in a master list, or you can view separate sections for notebooks, PDFs, ebooks, and starred files. You can create folders to further organize content and you can place folders within folders as well. Everything syncs with your Remarkable account and apps.
There's a wide variety of templates included for writing and notetaking. And there are six different writing tools, each with it's own unique writing style. Some support pressure sensitivity better than others, and there's a pencil tool that supports tilt for shading at an angle just like a real pencil. Each style offers 3 line thickness settings and there are three line colors to choose from, black, white and gray.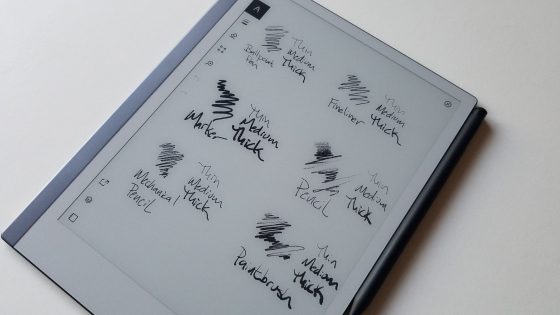 There's also a highlighter and an eraser. When activating the erase function you can use the tip of the stylus to erase, or you can circle an area to erase a larger section, or select to erase the whole screen. I do miss the stroke erase option found on Onyx's ereaders, but you can use the undo button for a similar effect.
There's a moving tool that lets you resize, move, and duplicate anything you've written or drawn on the screen. There's also a layer tool to help when working with complex drawings, and the software has undo/redo built-in.
In addition to syncing with Remarkable apps, you can send notes by email, and there's a LiveView feature to mirror the display on a computer—but that's still a beta feature too.
There's a conversion feature that will convert hand-written notes to typed text, and it supports over 30 languages. It does require an internet connection, but it seems to work pretty well. It's more accurate than the conversion feature on Onyx's ereaders, as it handles punctuation and list items better.
eReading Features
The software supports PDF and DRM-free ePub files, and there's also a Chrome plugin to send web articles to the Remarkable.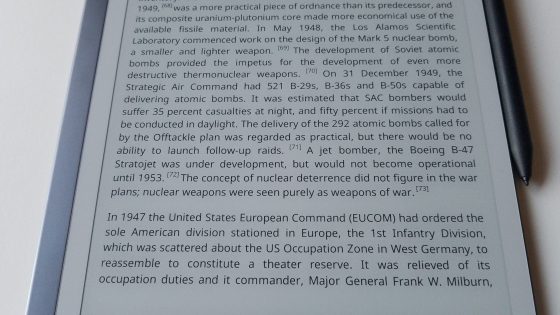 Unfortunately the reading features haven't improved much since the first Remarkable. It's still mostly a note-taking device. The reading app is fairly basic.
Click here for the Remarkable PDF Review to see how it handles PDFs.
When it comes to ePub ebooks, you have three line spacing and margin settings, and there are six font sizes and font types to choose from. You can also choose between left and fully justified text. There's multipage view with a jump-to-page option and table of contents to navigate your books, along with search.
But it lacks common features like a dictionary and bookmarks, and there's no easy way to go back to previous pages when jumping to different parts of a book. Hyperlinks aren't active, there's no annotations list, no pinch-zooming, no refresh settings, no contrast adjustment, no landscape view, etc.
You can use the stylus to write notes and highlights directly on ebooks and PDFs.
With PDFs you can zoom in and out and use a custom cropping feature to set the viewable area of the page, but the zooming resets when turning pages, though cropping remains.
While the Remarkable 2 is great for writing, it falls short in the ereader category because of the overall lack of features. Onyx's devices, like the 10.3-inch Onyx Note2, are better for ereading because the reading app is a lot more advanced and there's support for more formats and apps and 3rd-party cloud services, but the writing experience isn't quite as good as the Remarkable, so it just depends on what's more important to you, reading or writing.
Remarkable 2 Specs
10.3-inch 2nd generation CANVAS display, partially powered by E Ink Carta technology
1874 x 1404 resolution (226 ppi)
Capacitive touchscreen
Stylus pen included (electromagnetic
induction) with tilt detection and support for 4096 levels of pressure sensitivity
1.2 GHz dual-core ARM CPU
8GB internal storage (~7.1GB usable)
1GB RAM
Dual-band Wi-Fi
USB-C
Supports PDF and DRM-free ePub files
Operating system: Codex, a custom Linux-based OS optimized for low-latency epaper
Menu language: English only
Battery: up to 2 weeks; 3000 mAh
Weight: 14.2 oz. (405 g)
Dimensions: 187mm x 246mm x 4.7mm
Price: $399 USD at Remarkable.com