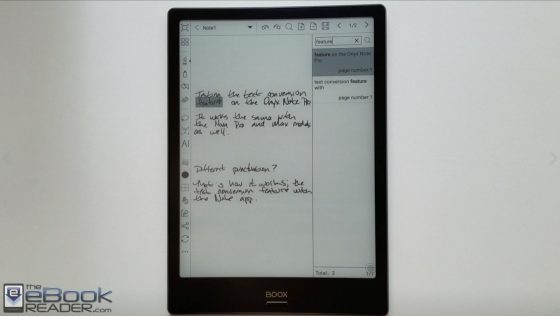 One of the new features that Onyx added to the software on their ereaders is the ability to convert handwritten notes to typed text. I showed the feature briefly in the Note Pro and Nova Pro reviews, but I wanted to put together another review to show how the handwriting recognition feature works in more detail.
The conversion features is available on the Onyx Note models, the Nova Pro and Max2 devices—the models with Wacom touchscreens and Android 6.0 software.
The text conversion was introduced with the 2.1.1 software update, which Onyx pulled shortly after release because of bugs.
The new 2.1.2 software is expected to get released at the beginning of June, so it should be available soon. That's the version I'm using in the video review below.
There are two different ways to use the text conversion feature. You can use it to convert handwritten notes to typed text with Onyx's built-in Note app.
Or you can also use the keyboard to convert handwritten text on the fly. The keyboard conversion feature works anywhere you can enter text using the keyboard, not just the Note app.
By default, Onyx's devices use the Android keyboard, but if you go into settings and change it to use the Onyx keyboard you can tap the pen icon to open a window to convert handwritten text to typed text.
Overall the text recognition software works surprisingly well. The only problem is there's an issue with spacing. Onyx's software doesn't acknowledge line breaks, and when using the keyboard it will group the beginning and end of new entries together. If they would just automatically add a space behind all punctuation it would solve half the problem.
As it is you have to go back and manually add spaces and clean things up a bit, but the actual text conversion aspect works quite well, even with slightly sloppy handwriting. Onyx's Note app also has the option to search your handwritten notes using the recognition feature.
The conversion feature works with a number of languages (the list is shown at the beginning of the video review). The first time you use it it requires an internet connection but after that conversion works offline.
Keep in mind they just recently introduced this handwriting recognition feature so it will probably get better with future updates. Personally I really like the keyboard conversion feature. I won't go back to using the regular keyboard anytime soon.
Convert Handwritten Notes to Typed Text