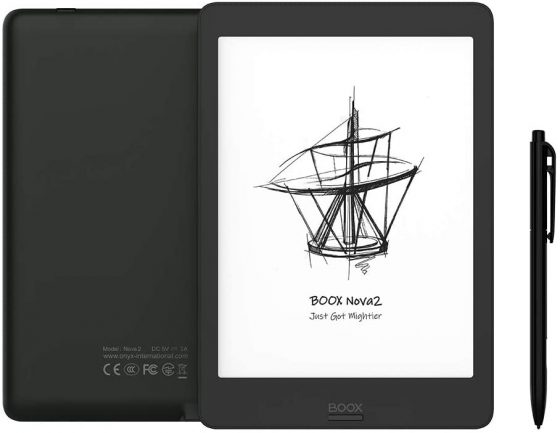 Onyx currently has the 7.8-inch Nova2 on sale at Amazon, and this is the first time they've put that particular model on sale since it was released earlier this year.
The Boox Nova2 normally sells for $339, but right now it's selling for $309 with free shipping at Amazon.
That's still more expensive than other 7.8-inch ereaders, but the Nova2 is a lot more advanced than a typical reading device, and it also doubles as a notepad thanks to the included stylus and Wacom touchscreen.
The Nova2 runs Android 9.0 and is open to install 3rd-party apps, and the Kindle app works surprisingly well on Onyx's devices.
It has a 300ppi E Ink screen and a frontlight with adjustable color temperature. Under the hood there's a 2.0GHz octa-core processor and 3GB of RAM, with 32GB of storage space. It has a USB-C port with support for OTG to connect peripherals and external storage. It also supports Bluetooth and dual-band WiFi, and it has a 3150mAh battery.
See my Onyx Nova2 review for more details and to see the device in action.
It's probably on sale because Onyx is going to release a Nova3 soon. The Nova2 hasn't even been on the market for 6 months yet and Onyx already has a replacement for it, and it's not like they're adding some groundbreaking new feature so it'll still be 95% the same as the Nova2. They'll probably just slightly improve the processor and RAM specs and update the software to Android 10 like they did with the new Max Lumi. Knowing Onyx, they're probably already working on a Nova4 to replace the Nova3 that hasn't been released yet.