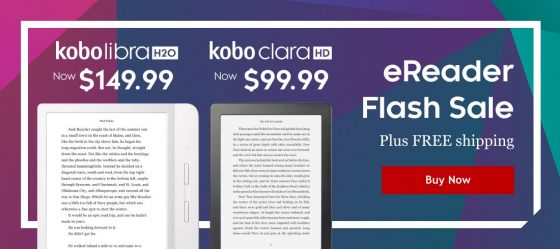 Kobo doesn't usually participate in Amazon's sales events, but this year they are running a sale on Kobo ereaders that just happens to coincide with Amazon's Prime Day sales.
Now through October 14th, Kobo has the 7-inch Kobo Libra H2O on sale for $149 and the 6-inch Kobo Clara HD is marked down to $99. Both are $20 off the regular prices, and both are available from Kobo.com and through Walmart's website.
Kobo's sales are never anywhere close to the same level as Amazon's sales, where they're taking $50 off the price of the Kindle Paperwhite for Prime Day, but getting $20 off on a Kobo ereader is still better than paying full price, and since you don't have to pay an extra $20 to remove ads on Kobo ereaders, the Clara HD basically works out to the same price as the Paperwhite with ads for $79.
Plus the Kobo Clara HD has one major feature the Kindle Paperwhite lacks: a frontlight with warm color adjustment.
The Clara HD is not waterproof like the Paperwhite, but the Libra H2O is if that's something that's important to you.
Kobos are a good alternative to Kindles, especially for those that like to tinker with hacks and mods. See my Kobo Clara HD review and Kobo Libra review for a closer look and a complete rundown of their features.
The Clara HD and Libra H2O are both on sale from Kobo's Canadian store as well; in the UK they have the Kobo Nia on sale instead of the Clara HD.