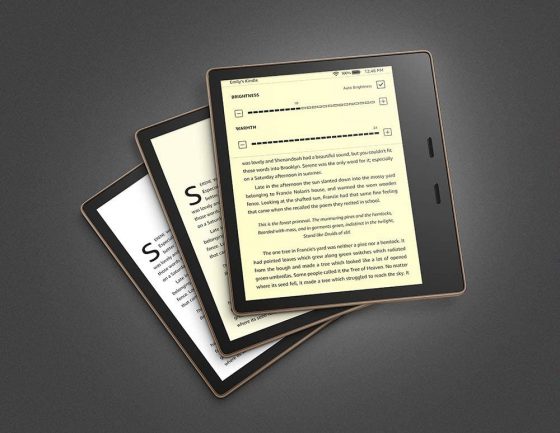 One question that a lot of people ask, especially recently with Kindles being on sale, is should I buy a new Kindle now or wait for a new model to get released?
Considering how Apple and other tech companies do business by releasing new models constantly, that's a valid question for those that have been conditioned to expect something new every few months.
But when it comes to Kindles and dedicated ebook readers in general that have E Ink screens, upgrades are a lot less frequent (with the exception of Onyx who releases eight new models per year with minor changes).
When it comes to Kindles upgrades happen at a snail's pace. Even when Amazon finally does release a new model after 2 or 3 years, the changes are usually minor.
When they upgraded from the Oasis 2 to the Oasis 3 after 2 years all they changed was the frontlight color. It still has the same exact screen, the same exact design, and the same exact reading features.
When they "upgraded" the last Paperwhite model it took 3 years just to make it waterproof. They also increased storage space and added Bluetooth to listen to audiobooks, but most people could care less about those "upgrades". In fact some consider the flush front screen a downgrade because it shows fingerprints more and is slightly less clear than the previous model.
At this point there's not a lot that Amazon could do to make an upgraded model truly stand out from their current lineup. The Oasis 3 is unlikely to get replaced any time soon since it was just released a year ago, and it already has all the features needed for a premium reading device.
The Paperwhite line has been around since 2012. A new Paperwhite model could get released at some point within the next year, but that's not guaranteed. What would they change? They aren't going to go through the trouble of releasing a new model just to add something like a USB-C port.
E Ink screens plateaued years ago; there hasn't been any noteworthy improvements in years outside of them using flexible substrates for increased durability, but most companies still don't use them because they're more expensive, including Amazon. Color E Ink screens are a long way off from being good enough for a mass market Kindle, and they're never going to replace regular black and white E Ink screens because contrast is inferior.
So unless E Ink suddenly comes out with new screens that have better contrast, there aren't any major changes that Amazon could make to Kindles. Waiting for the next new model with the hope that it's somehow going to be leaps and bounds better than the current model isn't a reasonable expectation.
Some would like to think that Amazon will release a Paperwhite with a warm frontlight option like the Kindle Oasis, but I don't see that happening. First off, warm frontlights have been around for years. They could've added that to the current model if they had wanted to. Second, why would Amazon bring one of the main selling points from their flagship Oasis to the less expensive Paperwhite?
I could see Amazon eventually releasing a new 6-inch model with that option, but I doubt it's going to happen with the Paperwhite that frequently goes on sale for under $100. Plus there's the point that the name "Paperwhite" would make absolutely no sense if it had an orange/yellow screen. It took Amazon 25 LEDs to get the variable colors right on the Oasis so it's hard to see them doing something like that on the Paperwhite as well considering it's half the price of the Oasis, sometimes less when it's on sale.
If you want a new Kindle you're better off just getting one now instead of hoping that Amazon is going to release something better in a few months. The odds of that happening are slim to nil. Even if they did surprise us and release a new model by the end of the year you could still return the Kindle you purchased and buy the new one. Amazon has an extended return period during the holiday shopping season where you can return most purchases, including Kindles, through January.