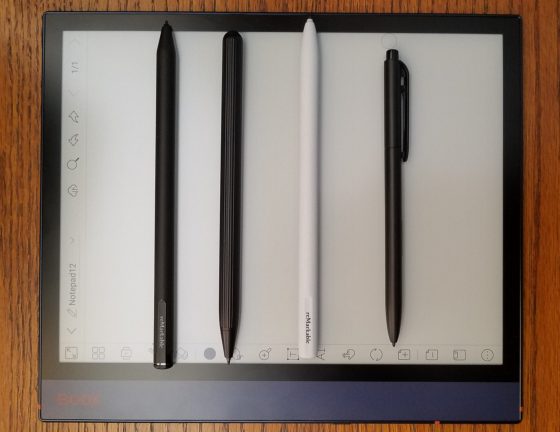 People often ask about using different styluses with Onyx's ereaders and other E Ink notetaking devices so I wanted to put together a post that lists the difference styli that are currently available.
Most E Ink notetaking devices use the same Wacom touchscreen so the styluses are interchangeable. You can go online and find a number of alternative styluses. Just make sure the stylus says it's compatible with EMR technology or Wacom touchscreens; iPad styluses will not work.
From a usability standpoint there's not a big difference between the different styluses that I've tried—they all get the job done—but there is a big size and weight difference that effects how they feel in your hand. Some are thick, some are thin. Some feel cheap, some feel nice. Some have a finer tip and some have an eraser function built in.
Functionally I like the standard Onyx stylus the best because it's their only one with a button on the side that you can hold down to erase. That's the fastest and most efficient option; turning the stylus upside down to use the erase function is a rather slow and clunky experience if you have to erase often.
Remarkable's styluses are the best quality and feel the nicest. Onyx's standard stylus feels really cheap, like it cost them about 75 cents to make. They used to be available on eBay for like $35 but those deals appear to have dried up.
In the picture above, from left to right, is the Remarkable Marker Plus, Note Air stylus, Remarkable standard Marker, and Onyx's standard stylus.
Here's a list of some of the styluses that are available for E-Note devices like Onyx and Remarkable and Likebooks:
Standard Onyx Stylus – The standard stylus that comes with most Onyx devices. It has a button on the side to trigger the eraser to erase using the tip and it also has an eraser on the top. It weighs 7.2 grams and currently sells for $50.99.
Onyx Triangular Stylus – This is Onyx's thicker stylus that comes with their Max models. It has an eraser on the top but no button. According to Onyx it weighs 11 grams. It currently sells for $50.99 from Amazon and $45.99 from Onyx.
Note Air Stylus – Onyx came out with a new stylus for the Note Air. It's thicker than the standard stylus and has grooves that run down its length. It has a finer tip and no eraser, and it's magnetic so it sticks to the side of the Note Air. It weighs 13.4 grams and currently isn't available to purchase anywhere—it only comes with the Note Air, but Onyx will probably start selling it separately soon.
Remarkable 2 Marker – The standard stylus for the Remarkable 2 is white and it has a nice textured feel. It weighs 14.8 grams and sells for $49. It has no eraser function and it's magnetic to attach to the side of the Remarkable 2 (note that the magnets only work with the Remarkable 2, not the Note Air—the magnets are aligned differently).
Remarkable 2 Marker Plus – To me the Remarkable Plus feels the nicest in-hand, but it's ridiculously expensive at $99, and it's a bit on the heavy side at 18.6 grams. Aside from the color and weight, the difference between it and the standard Remarkable marker is the addition of an eraser on top.
STAEDTLER EMR Stylus – Another popular option that I hear people recommending all the time is the Staedtler. The jumbo version is listed at 10 grams and is selling for $38 on Amazon; the thinner classic version is $27. I have not used a Staedtler but a lot of people seem to like them.
Lamy Safari Stylus – This stylus is known to work with E-Note devices. I don't know anything about it but it looks nice. It's a bit pricey at $69.
If you have any additional stylus suggestions please share in the comments below!