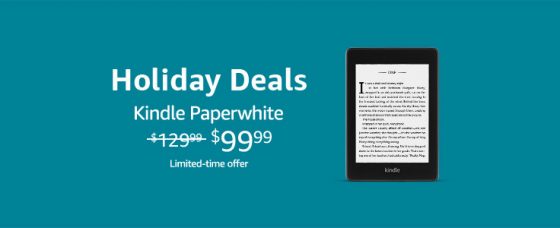 Amazon is having another round of Kindle sales, except this time the Kindle Paperwhite is the only model being discounted.
In fact only the black version of the 8GB Kindle Paperwhite is on sale for $99; all the other colors and configurations are still at the regular price. Even the version without ads isn't on sale, but you can unsubscribe from ads at any time by paying Amazon $20 or complaining to customer service.
You also have the option to add 3 months of Kindle Unlimited for free. Just remember to cancel if you don't want to get charged $9.99 per month after 3 months.
Amazon has Kindle Paperwhite covers on sale as well, up to 25% off, and all the various colors are on sale, not just black.
Amazon has their Fire tablets on sale again too. All the different models are on sale, not just one (it's pretty weird how they only have one Kindle version on sale, but most are out of stock anyway).
Woot is also having a 1-day sale on the previous generation Kindle Oasis in new condition. The 8GB Kindle Oasis with Wi-Fi is $149, the 32GB version is $169, and the 32GB version with cellular connectivity is $199. The Oasis 2 has all the same features as the current model, except the option to adjust the color of the frontlight to a warmer tone. This deal ends on December 8th at 12AM CT.