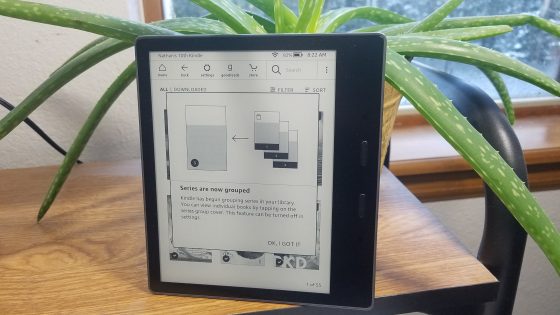 Last week Amazon released a new software update for Kindles that didn't seem very interesting on the surface, but it turns out they did add an important new feature not mentioned in the release notes.
Kindles running firmware 5.13.4 now have the option to group books together that are in a series.
They added series support as a new option in settings that can be turned on and off by going to Settings > Device Options > Advanced Options > Home & Library > Group Series in Library.
Some folks at MobileRead noticed the new unannounced feature and have been testing it out.
After enabling the setting your Kindle will show a message on the homescreen saying this: "Kindle has begun grouping series in your library. You can view individual books by tapping on the series group cover. This feature can be turned off in settings."
Once enabled, books that you have downloaded in a series will be grouped together automatically. It will show a cover for the first book with a number in the lower corner that indicates how many books are grouped, and when you tap the book it will open a page showing the books in series view, with a number below each book to show the order, and a link at the bottom to view the full series in the Kindle Store to easily find additional books in the series.
Series grouping is something other devices like Kobos and Nooks have had for a long time so it's nice to see Kindles finally getting the option as well.
If you want to try out the new series grouping feature on your Kindle, just install the latest 5.13.4 software update and enable the option in settings. Unfortunately it does not appear to work with sideloaded books, only books purchased from Amazon.