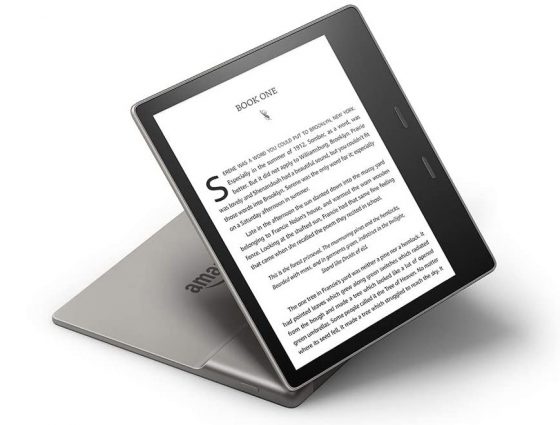 Amazon has released another new software update for Kindles. It's been two months since the last update so right on queue they've released another new Kindle software update.
They've been releasing updates every two months lately, but it's been a long time since they've actually added anything interesting or particularly useful. All year they've just been changing minor details that most people probably never notice or care about. The biggest update this year was when they added the dark mode toggle, but that wasn't even a new feature, just a new way to access an existing feature. Earlier in the year they completely redesigned the font layout menu while functionally changing nothing.
It's the same story with this new 5.13.4 update. Basically all this update does is add more advertisements and recommendations to the homescreen. I guess they figure why have customers open the Kindle store when they can just force them to look at it on the homescreen.
Update: It turns out they added a new group series option that they didn't mention in the release notes, so this update is more interesting than it first seemed…
Unfortunately Amazon no longer seems to care about adding useful features like more font sizes and advanced layout options, but now you can scroll through 5 pages of recommendations on the homescreen. Yay!
For those of us with Home Screen View turned off you probably won't notice anything new with this update.
The new software update is available for all Kindles dating back to the Kindle Voyage and Kindle Paperwhite 3, so if you bought a new Kindle any time during the past 6 years there's an update available for it.
You can wait for the new update to download over Wi-Fi and install automatically on your Kindle over the coming weeks, or you can install it manually whenever you'd like. The update files are available to download for each model on Amazon's official Kindle Software Updates Page.
Here are the release notes for the Kindle 5.13.4 software update:
Version 5.13.4 – December 2020

Here's what's new:

Extended Home Feed: You can scroll further on Home and see up to 5 pages of content.

Amazon Kids and Amazon Kids+: Amazon FreeTime and Amazon FreeTime Unlimited are changing names to Amazon Kids and Amazon Kids+ in the coming months. There is no change to the benefits you enjoy and no action is required from you.

Performance improvements, bug fixes, and other general enhancements.