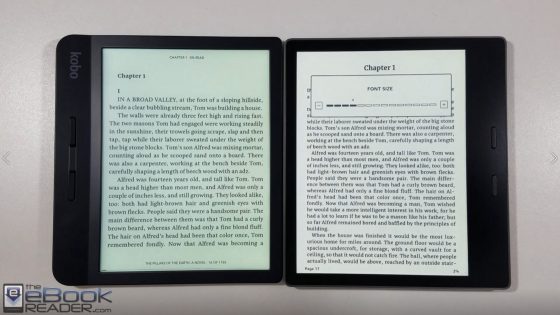 When it comes to dedicated reading devices with E Ink screens, their lighting system is often a misunderstood subject.
A lot of people call the light a backlight but E Ink screens cannot be backlit because they aren't transparent, so they use frontlights instead with LEDs located above the screen that are hidden under the bezel.
Because of the way frontlights work, it's common for some areas of the screen to appear a little bit brighter than other parts of the screen.
Some frontlights are more even than others. Some have obvious blotchy areas or cloudy areas on the screen, some have gradients where the color changes slightly from one side to the other, and some have subtle shadow cones along the side of the screen where the LEDs are located.
Frontlights have gotten better over the years but they still aren't perfect. The closest one that I've seen being perfectly uniform is the Kindle Oasis. It has 25 LEDs so that's one reason why the light is so uniform. By comparison the entry-level Kindle only has 4 and the Paperwhite has 5.
Personally I have problems with my eyes getting distracted by uneven frontlights. It's worse when the light is uneven along the side because then I notice it with every line and get taken out of the book. If the brighter spot is along the top or bottom I don't notice it as much because I don't see it with every line and I find it easier to ignore.
What about you? Do you get distracted by uneven frontlights while reading? Or is it something that doesn't bother you? It's still something that bothers me, as was the case with the Kobo Libra H2O, but I don't hear other people complaining about it much. Most people seem to be fine with frontlights that are a little spotty. Mostly what you hear is people wanting a warm frontlight or dark mode for reading at night.