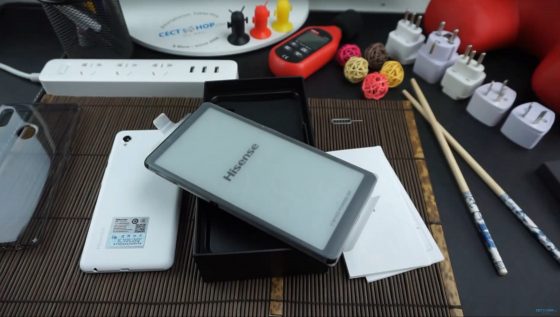 Hisense recently released another new E Ink smartphone called the Hisense A7 that's now available to purchase. Hisense tends to come out with a new E Ink phone every 6 months or so, and this one is their largest yet.
The Hisense A7 has a 6.7-inch 300ppi E Ink screen so it's more of a phablet size-wise than their other phones like the A5 that has a 5.8-inch screen. This model has a regular black-and-white E Ink screen, not color like the Hisense A5 Pro CC that was released last year.
The A7 runs Android 10, but like other Hisense phones it does not support Google Play. There might be a hack to add it at some point but that's always been an issue with Hisense's E Ink phones.
It has fairly standard specs for a phone, and it supports 5G networks. You can find the full list of specs on the product page so I'm not going to repeat them here.
The main problem with Hisense's E Ink products is the limited market. They aren't officially available outside of China, but there are some smaller retailers that ship them worldwide, like the Cect Shop that's currently selling the Hisense A7 for approximately $400 USD.
They recently uploaded a YouTube video showing the A7. The video is in German and it's an odd review that basically just shows the settings menu for 10 minutes, but at least you can see the device in action a little bit.
I don't know about the phone aspects but the Hisense A7 could make for a nice reading device with the 6.7-inch E Ink screen, and since it can install apps that opens up a lot of reading possibilities. Too bad these type of devices aren't more widely available.
Hisense A7 E Ink Phablet Video