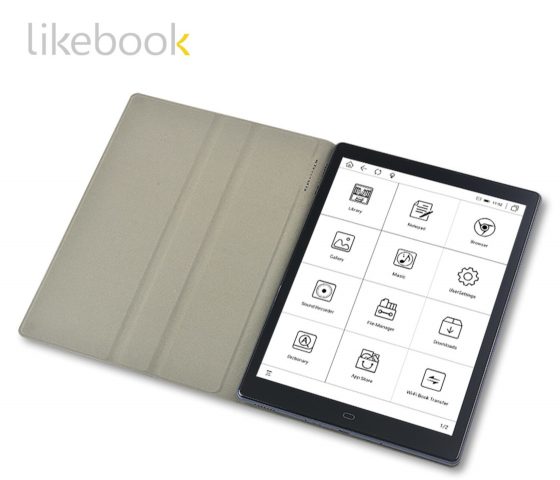 Boyue has released a new 10-inch Likebook ereader and E Ink notepad with a budget price of $339, making it the least expensive 10-inch ereader on the current market.
The new Likebook P10 costs $140 less than the cheapest 10-inch Onyx ereader, but it comes with some notable hardware downgrades that make it a questionable buy.
The Likebook P10 uses a different screen panel than all the other 10-inch ereaders on the market. Most devices have 10.3-inch E Ink screens with a resolution of 1872 x 1404 with 227ppi, using either a Mobius or Carta screen. But the Likebook P10 uses a lower resolution 1600 x 1200 10-inch Carta screen with 200ppi.
On the plus side the screen does feature a frontlight with both warm and cool color temperatures, and it has a flat tempered glass cover-lens.
The P10 also uses a capacitive stylus pen instead of having a Wacom touchscreen like most note-taking ereaders, and it doesn't even come with a stylus—it has to be purchased separately.
They're also using a quad-core processor instead of the octa-core processor that other Likebooks come with, and it lacks a memory card slot, but it does have 64GB of internal space and 2GB of RAM.
Other specs include a 3900mAh battery, USB-C, Bluetooth 5.0, and it supports dual band Wi-Fi. It's a bit on the heavy side at 458 grams.
The Likebook P10 runs Android 8.1 and is open to install Android apps. The built-in ebook app supports ePub, PDF, and a number of other text formats.
Even with the hardware downgrades it's nice to see the price of 10-inch ereaders continuing to go down. $339 is a reasonable price for a 10-inch ebook reader with an E Ink screen.
However, the Likebook P10 currently isn't being sold on Amazon like other Likebooks. It's only available from AliExpress and ships from China. Perhaps it will show up outside of China eventually.
Boyue Likebook P10 Video