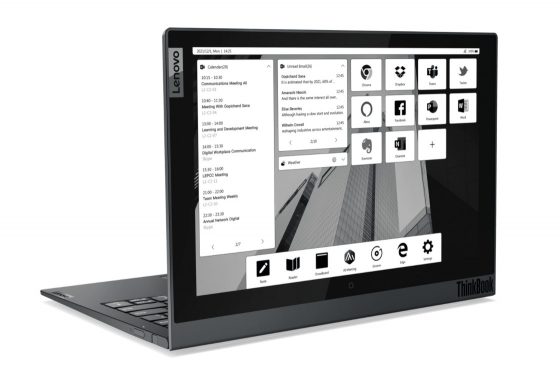 Earlier this week Lenovo announced that they'll be releasing a new second generation version of their dual-screen ThinkBook Plus laptop that comes with a secondary E Ink display on top of the lid.
The new Lenovo ThinkBook Plus Gen 2 i is expected to get released in the first quarter of 2021, and the price starts at $1549 (the first gen ThinkBook Plus can be had for $869 now but it originally sold for $1299).
The new model adds a larger and faster E Ink display with higher resolution. It now uses a 12-inch screen with a resolution of 2560 x 1600. The previous model had a 10.8-inch screen with a 1920 x 1080 resolution.
Lenovo claims performance has been improved with a faster refresh rate and they redesigned the E Ink interface and made it so you can run productivity apps without having to open the lid.
They also added a "garage" to hold the stylus pen and improved touch interaction.
Apparently battery life can last up to 24 hours when using the E Ink display, 15 hours otherwise.
The main problem with the first ThinkBook Plus was you couldn't do much with the E Ink screen so hopefully they've made things more functional this time around.
They haven't posted most of the specs at this point but keep an eye on Lenovo's ThinkBook page for when the new models get added.
Lenovo ThinkBook Plus Gen 2 i Product Tour