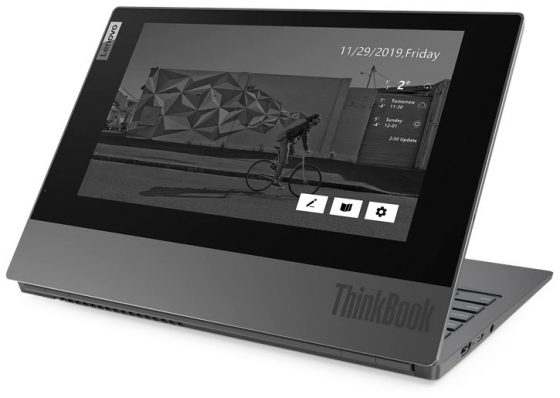 Lenovo recently released a new dual-screen laptop called the ThinkBook Plus that has a secondary E Ink screen built into the top of the lid.
The main display is a 13.3-inch 300 nit IPS screen with a resolution of 1920 x 1080, and the E Ink screen is a 10.8-inch 1920 x 1080 resolution screen with touch support.
Aside from the E Ink display on the lid, the ThinkBook Plus is a typical mid-level laptop that runs Windows 10 Pro.
There are two variations of the ThinkBook Plus available from Lenovo's website. One has a 10th gen Intel i5 processor (i5-10210U) with 8GB of RAM and a 256 GB SSD. The upgraded model has an i7 processor (i7-10510U) with 16GB of RAM and a 512 GB SSD.
Neither are cheap. The retail price of the i5 model is $1299 and the i7 model sells for $1529.
According to a review at ZDNet, there's not much you can do with the E Ink screen aside from writing notes, which can be synced with OneNote (that's a plus), and using the built-in Reader app that supports PDF, EPUB, MOBI and TXT formats. You can use an included stylus to write on PDFs.
Unfortunately it does not work with the Kindle app, as shown in videos from CES earlier this year, or any other reading apps outside of the default one.
Apparently the E Ink screen also can be used to show your Outlook Email and Calendar as well as the weather and date, and you can set custom wallpapers, but that's about it. Like most hybrid devices that feature a secondary E Ink screen, there are a lot of limitations, but having an E Ink screen built into the top of a laptop is still pretty cool.