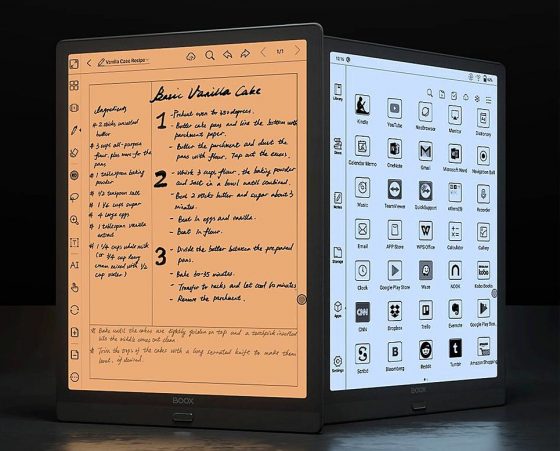 If you follow this website you know that I'm a big fan of Onyx's ebook readers and note-taking devices. The open Android operating system makes them a lot more versatile than other ebook readers because you can install various reading apps, and that's the only way to get a large screen Kindle these days.
However, there are some things you should know before buying an Onyx ereader, and you should be especially cautious about where you buy an Onyx ereader from. Onyx is based in China and they use some shady resellers that should be avoided.
If you're going to buy an Onyx ereader the best place to get one is on Amazon because of the easy return process and reliable service. Best Buy also carries some Onyx ereaders now too so they might be another good option, but the fact that none of the listings use the word "Onyx" and some have wrong facts makes it seem suspicious—at this point it's unclear if these are being fulfilled by some shady reseller or Onyx directly so I would avoid them for the time being because they might be Russian versions that never get software updates.
Onyx also sells their ebook readers directly from their website at shop.boox.com. You can sometimes get a slightly lower price or a free accessories bundle when buying from Onyx directly, and a lot of people buy from them without any problems, but if you want to return a device you're likely going to be in for a major headache. Read Onyx's return policy and you will find it is not customer friendly at all—you can basically only return something if there's a hardware defect, and even so the customer gets stuck paying return shipping back to China, and the return process can take up to 8 weeks.
There's another website with the url onyxboox.com that many people often mistake for Onyx's official website, but this is actually a 3rd-party reseller that should be avoided.
The problem with them is they sell Russian versions of Onyx's ereaders. Their devices have different names and often different software that never gets updated like regular Onyx ereaders.
An even better reason not to buy from that website is the simple fact that they're too cheap or lazy to setup security certificates so their website is not even secure. Avoid any website that wants you to enter personal information on an insecure page; that's a major red flag.
Another US-based reseller goes by the name Ectaco. The problem with them is they sell Russian models instead of US versions, so the software never gets updated when Onyx releases new features, which happens often.
I bought the Poke2 Color from Ectaco on Amazon. They shipped it in a timely manner and I have no complaints with their service, but being the Russian version of the Poke2 Color it has never received the 3.0 software update so it never got access to any of the new features like gesture navigation, which is a real bummer.
Other Russian versions of Boox products are sold on Amazon as well, so if you're going to buy one on Amazon I would make sure it's being sold by "Onyx International Inc", which is Onyx's official Amazon store, not some 3rd-party reseller where you have no idea what you're going to get. The Russian models often have weird names like Kon-Tiki, Monte Cristo, Livingstone, Caesar, so they're usually pretty easy to identify from the regular models.