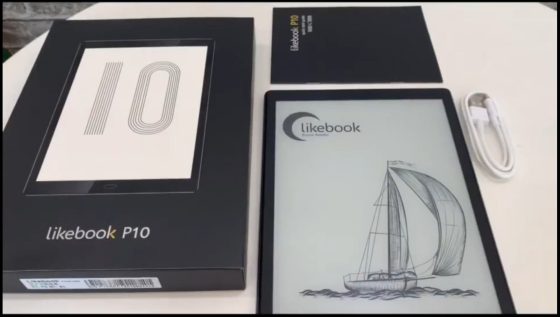 Boyue recently released a new budget 10-inch ereader called the Likebook P10, and some early video reviews have started to turn up on YouTube.
The P10 is an unusual device because it has a different screen than all the other 10-inch ereaders on the market. Most have 10.3-inch E Ink screens with 227ppi, but the Likebook P10 uses a lower resolution 10-inch screen with 200ppi.
Considering it costs less that's a comprise some might be willing to make, but hopefully this isn't a sign of things to come—I've had enough with E Ink screens getting worse instead of better.
The device runs Android 8.1 and it can install Android apps. It even appears to have Google Play onboard.
As far as hardware specs go, it has a quad-core CPU with 2GB of RAM and 64GB of storage. It has a USB-C port, dual-band WiFi support, Bluetooth 5, and it has a frontlight with adjustable color temperature.
It uses a capacitive stylus instead of a Wacom touchscreen like other eNotes, so I wouldn't expect the stylus to work very well. That's probably why it wasn't shown in the video review at all.
The built-in app supports ePub and PDF formats, among others, and it looks like they might have finally fixed the formatting issues with their built-in ebook app, but it's hard to tell for sure since the books aren't in English.
The price is only $339 but that's without a stylus. Add another $25 for that. Unfortunately if you want to get a Likebook P10 the only way to currently do so is to order one from China through AliExpress. For some reason Boyue stopped selling their 10-inch Likebooks models on Amazon some time ago, but there are still several listings for their 7.8-inch models.
Likebook P10 Video Review