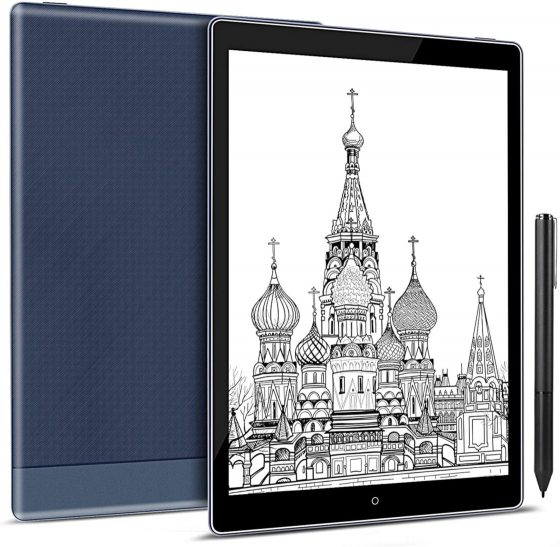 A new Android-powered ereader and E Ink tablet hybrid has turned up for sale on Amazon called the Taotuo P101.
It appears to be a Likebook P10 clone. It has the same specs and the same Android 8.1 operating system as the new Likebook. They are almost certainly the same exact device but the Taotuo version is more expensive.
The current price is $449 on Amazon, but there's a 5% off coupon that takes the price down to $427.50. Still, that's not a good price considering you can get an Onyx Note Air or Note2 with upgraded hardware and more capable software for only $50 more.
The Likebook P10 can be purchased from AliExpress for only $339 with free shipping from China, and you can get the bundle with a case and stylus for $364.
If the Taotuo version was that cheap on Amazon it might be worth considering if you don't mind downgraded hardware.
The main thing with this model is it uses a lower resolution screen (1600 x 1200) than other 10-inch E Ink devices. It has 200ppi instead of 227ppi, and it has a less durable glass-backed screen instead of a flexible Mobius screen.
Another difference is this model lacks a Wacom touchscreen for note-taking. It comes with a capacitive stylus, which might work okay for highlighting and selecting, but it's not going to be very good for writing and drawing.
Plus the quad-core CPU and 2GB of RAM provide less horsepower than other models, but that still may be sufficient as an ereader. It has 64GB of built-in storage, and it has Wi-Fi and Bluetooth, with a USB-C port that supports OTG, and the frontlight has both warm and cool color temperatures.
One difference with the specs is the Taotuo version says it has a 4300mAh battery and the Likebook P10 says 3900mAh, and the listed dimensions are slightly different, but virtually everything else is the same so there's unlikely any difference between the two.
The Android 8.1 operating system is open to install apps, and the built-in ebook app supports PDF, EPUB, TXT, DJVU, HTML, and a number of other formats.
If the price goes down on the Taotuo version it might be worth considering if you just want a basic 10-inch ereader without a Wacom touchscreen. You're probably better off spending less on the Likebook P10 version, but it's weird how Likebook no longer sells their 10-inch models on Amazon.