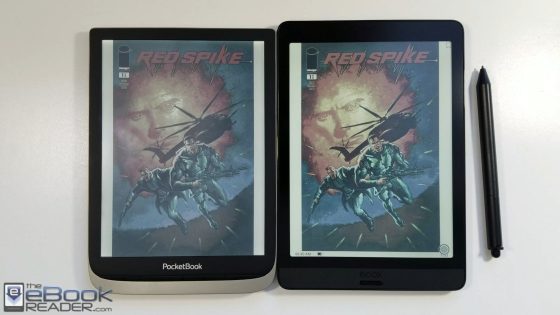 The Onyx Nova3 Color and Pocketbook InkPad Color are among the first devices on the market to feature E Ink's new Kalideo Plus display, an improved version of the color E Ink screen technology that was released last year.
Both devices have the same 7.8-inch color E Ink screen, so that's why I was surprised at what I saw when I loaded the same comics on both devices.
In some cases the colors look completely different, and in most cases everything looks better on the Nova3 Color's screen. Colors are brighter and blacks are darker, even black and white text looks better on the Nova3 Color than it does on the Pocketbook InkPad Color.
The difference mostly seems to come down to Onyx's added contrast and color adjustment controls. From the quick settings menu you can adjust color contrast, color saturation, and color brightness. Pocketbook doesn't have any of those options so you can't adjust any of that on the InkPad Color, and doing so has a big impact on overall color and contrast. Update: It turns out Pocketbook does have some color adjustment settings, but they aren't labeled so it's hard to tell what they do, and they have to be adjusted on a book by book basis.
The Nova3 is also much faster to load and turn pages than the Pocketbook InkPad. That's not surprising considering the Boox has a quad-core CPU with 3GB of RAM and the Pocketbook uses a dual-core CPU with 1GB of RAM; as you'd expect the performance difference is significant.
Another big advantage for Onyx is the open Android operating system. You can install all manner of apps to make use of the color screen, whereas the Linux-based Pocketbook is limited to color content in common ebook formats, comic formats, text formats, etc. Considering most newer DRM-laden comics aren't available to download in those formats that can be a problem.
Personally I like Pocketbook's design better with the added page buttons and microSD card slot, and it's noticeably lighter at 225 grams compared to the Nova3 at 275 grams. But that's pretty much where the advantages for Pocketbook ends.
The Pocketbook does have less ghosting because it seems to fully refresh the screen more consistently, whereas Onyx uses partial refresh more often and that just doesn't work well with color E Ink. Luckily you can set NeoReader to do a full deep refresh with every page to avoid ghosting problems when reading, but excessive ghosting can be an issue with the Nova3 at times.
The Nova3 Color is the clear winner in the side-by-side matchup, but in some ways it's an unfair comparison considering the Nova3 costs $90 more than the Pocketbook InkPad Color. That's a significant amount of cash, but the Nova3 does add a Wacom touchscreen and a stylus so that alone accounts for a good portion of that. If you don't need all the extras the Nova3 provides the Pocketbook isn't a bad reading device—it's just slow and more limited.
Onyx Nova3 Color vs Pocketbook InkPad Color