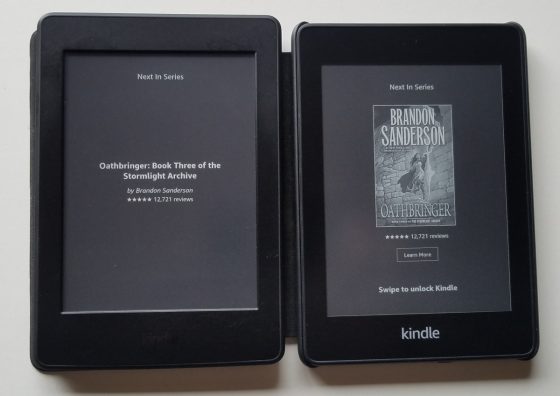 It looks like Amazon is rolling out a new ad format for Kindles with Special Offers (ad-supported Kindles) that changes how the advertisements display on the lockscreen.
Neither of my ad-free Kindles have the new lockscreen book cover feature yet, but three of my ad-supported Kindles are displaying a new ad format on the lockscreen. Lucky me!
Instead of showing some random screensaver ad for a vampire romance novel that you have no interest in, Kindles now show ads that are more relevant to the content you already read.
The lockscreen now shows a black screen with the title of a book in the middle and the author's name and reviews listed below. At the top there's a heading that changes from "Next in Series", to "By the Same Author", and "Recommended for You".
Then when you open the sleep cover on your Kindle or press the power button, it will show the cover of the book in the center of the screen with a link to "Learn More". Below that is the option to swipe the screen to turn the Kindle on, like usual.
So basically the new book cover feature that was recently introduced for ad-free Kindles has some use on ad-supported Kindles as well. But instead of showing the cover of the book you're currently reading on the lockscreen, it shows the cover of a recommended book when powering on.
At this point we don't know if all Special Offers Kindles will be getting the new ad layout or just the newer models. Since the Kindle team doesn't care to share release notes with us anymore when releasing software updates we're left guessing about these new features that sporadically appear on some Kindles and not on others.
I hate the fact that Kindles have ads to begin with (no other brands do this) but at least the new ad format is better than the old way. Showing next in series titles and books by authors you're already reading and interested in makes more sense than showing random ads for romance novels.
However, I can see this getting annoying really fast if you have books by authors you don't really care for. I have one Thomas Hardy public domain title on my Kindle account from years ago so now my Paperwhite 4 just keeps rotating through a bunch of Thomas Hardy books I don't care about.