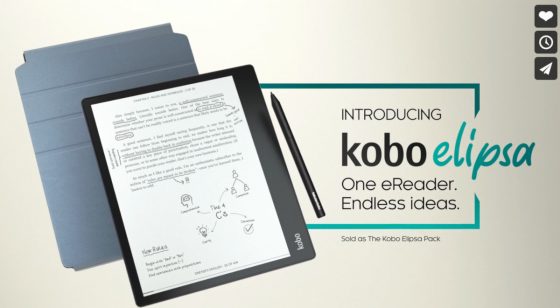 Kobo is releasing a new ereader and note-taking device called the Kobo Elipsa, and just like every other time Kobo has released a new model the details got leaked ahead of the official announcement.
This time some crafty folks at MobileRead followed clues that led to a Vimeo video showing Kobo's new ereader and notepad in action. The video is restricted from being embedded so I can't post it but you can watch it here: Kobo Elipsa Product Video.
The video might get pulled since it was posted a bit early, but the cat is out of the bag now either way.
The new Kobo Elipsa has a 10.3-inch E Ink Carta screen with 32GB of storage space and it comes with a stylus pen for notes and drawings. It also has a frontlight but it lacks the temperature control option.
The Kobo Elipsa includes a dedicated notes app, which is the first for a Kobo device, and it looks like you'll be able to write directly on ebooks and PDFs. Dropbox is supported as well to transfer files.
The design is a lot like the Remarkable 2 and the Onyx Note Air with one side larger but without any page buttons.
Kobo is going to sell the Elipsa as part of a package that comes with a stylus and a cover. We still don't know what the price will be just yet but I would guess somewhere in the $400-450 range.
It's nice to see Kobo not afraid to go in a new direction and finally adding a larger 10-inch model to their lineup. It's a bit curious, though, because a note-taking device isn't monetizable in the same manner as an ebook reading device, especially when people are using their own PDFs. Kobo can't sell notes to people so it's more about hardware sales, and marketing it as a note device might put some people off that just want a larger ebook reader without the added expense of a stylus and cover. Plus Kobo has some very strong competition up against the Note Air with a boatload of additional features and superior hardware for $479. It'll be interesting to see how the Kobo Elipsa stacks up. I'll post an update when Kobo makes the announcement official.
Update: The Kobo Elipsa is now available to pre-order for $399. The release date is June 24th.