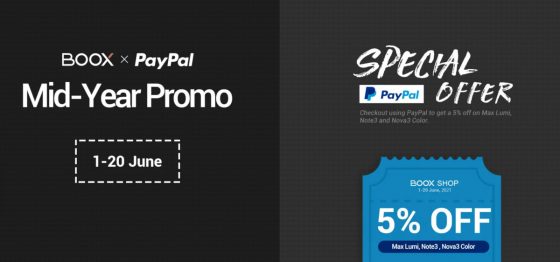 If you're looking to get one of Onyx's ereaders and E Ink note devices at a discount, most current models are currently on sale through June 20th.
The sale is only available on Onyx's official Boox Shop website, and some models require using PayPal to get the discount. Unfortunately the sale prices aren't showing up on Onyx's Amazon store so you have to buy from Onyx directly to get the discount.
One of the best deals is the 10.3-inch Note Air for $455, which includes a free case and a pack of replacement stylus tips. See my Note Air review for more information about the device and to see it in action.
The 7.8-inch Nova3 is on sale as well, marked down to $319, and it also comes with a case, replacement tips, and a stylus tether.
Onyx also has a 5% off promotion when using PayPal to purchase either the 13.3-inch Max Lumi, the 10.3-inch Note3, or the 7.8-inch Nova3 Color. Free accessory packs are also included with these models.
Using PayPal isn't required to get the sale price on the regular Nova3 and Note Air.
See Onyx's website for full details about the promotion.