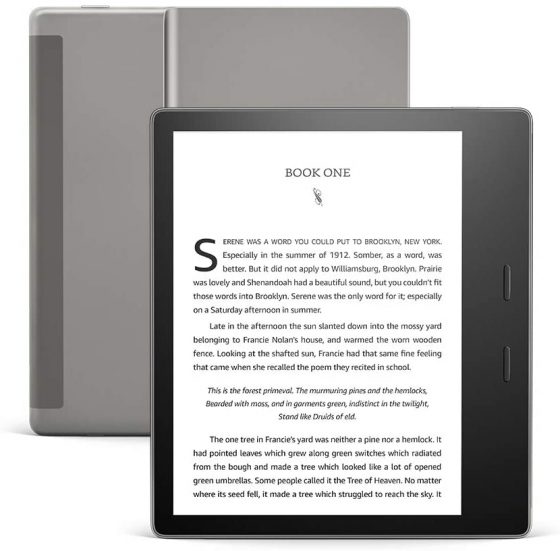 Here's a list of all the Kindle deals for Prime Day 2021, which runs from June 21st through June 22nd, and I've included a list of some other reading devices that are on sale as well.
Most of Amazon's devices are deeply discounted for Prime Day so now is the best time of year to get the lowest prices on Kindle e-readers, Fire tablets and TVs, and Echo and Alexa products.
An Amazon Prime membership is required to get these deals because they're exclusively for Prime members, but you can sign up for a free trial and then cancel before the end of the term if you don't want to get charged afterward.
Once again Amazon has the Kindle Paperwhite 4 marked down to $79.99, the same price as last year, and the entry-level Kindle is $54.99 ($5 lower than last year). The Kids Kindle can be had for $64.99, a new low price.
The Kindle Oasis 3 is also on sale for $184.99, which is $10 higher than last year. Amazon rarely puts the Oasis on sale (this is the first time in over 6 months) so now is the best time to get one either way, and it's the only Kindle with frontlight temperature control.
Amazon also has several Kindle covers are on sale as well, but I can't find the Kindle Unlimited deal mentioned in the press release where members get 4 months free with a new subscription.
There's also this Audible Audiobooks Deal where you can get Audible Premium Plus for $6.95 a month for the first 4 months, and you get 1 audiobook of your choice each month.
See the Prime Day Deals page at Amazon for an updated list of deals.
Kindle Deals
Kindle – $54.99 ($35 off)
Kindle Paperwhite 4 – $79.99 ($50 off) 8GB model
Kindle Paperwhite 4 – $104.99 ($55 off) 32GB model
Kindle Paperwhite 4 – $194.99 ($55 off) 32GB model with 4G LTE
Kids Kindle – $64.99 ($45 off)
Kindle Oasis 3 – $184.99 ($65 off) 8GB model
Kindle Oasis 3 – $209.99 ($70 off) 32GB model
Kindle Oasis 3 – $279.99 ($70 off) 32GB model with 4G LTE
Other Kindle Deals
Get up to 40% off Kindle Unlimited subscription
Select best sellers for $4.99 or less on Kindle
Kindle Fabric Covers – 23% off
Kindle Printed Covers – 20% off
Kindle Paperwhite 4 Leather Covers – 25% off
Kindle Paperwhite 4 Hunger Games Covers – 27% off
Kindle Oasis Fabric Water-safe Covers – 25% off
Kindle Oasis Leather Covers – 26% off
Deals on Other Reading Devices
Fire HD 10 – $79.99 ($70 off)
Fire HD 8 – $44.99 ($45 off)
Fire HD 10 Kids tablet – $119.99 ($80 off)
Fire HD 8 Kids Pro tablet – $69.99 ($70 off)
Kobo Libra H2O – $149.99 ($20 off)
Kobo Clara HD – $94.99 ($25 off)
Onyx Nova3 Color – $398.99 ($21 off)