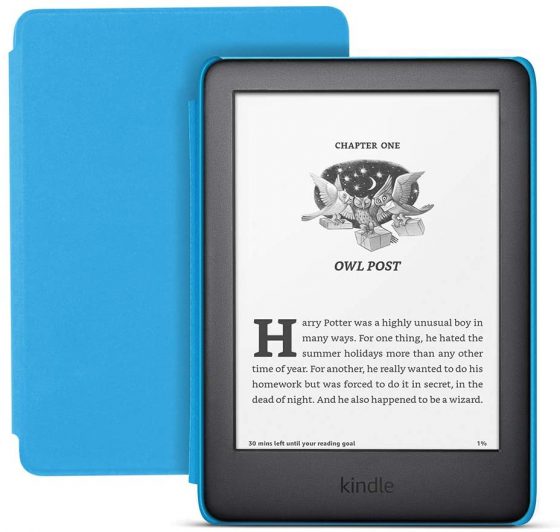 Here's a list of ten free highly-rated Kindle ebooks as of Sunday, July 18th.
Amazon also has a list of New York Times bestselling Kindle ebooks on sale for one of their Deals of the Day, and once again Woot has several used and refurbished Kindles on sale for cheap, starting as low as $17.99 for the 4th gen Kindle.
Please note the free Kindle books listed below are free as of July 18th, 2021. Most of these titles are free for a limited time only and will expire in the next few days or hours before going back to the regular list price.
A good place to find more free Kindle books is on the free bestsellers list at Amazon.
You don't need to own a Kindle ebook reader or a Fire tablet to read these free ebooks; you can use free Kindle reading apps for iPad, iPhone, and Android devices, or use a computer or web browser.
Subscribe to The eBook Reader Blog to keep updated on future free ebooks posts, along with ebook reader news, reviews and how to guides, or you can follow this site on Facebook and Twitter to get updates.
Kindle Deals
Update: On Monday Amazon put the Kindle and Kindle Paperwhite on sale again:
Kindle – $59.99 ($30 off)
Kindle Paperwhite – $84.99 ($45 off)
Kids Kindle – $69.99 ($40 off)
Kindle Paperwhite 3 – $48.49 refurbished at Woot
Get 20-40% off Kindle Unlimited Gift subscription
Kindle Unlimited Promos – 2 months free, offer varies by account
Amazon First Reads – Free eBooks for Prime Members
Get 20% off New Kindle with Trade-in
10 Free Kindle eBooks
Accept my Word by Linda K. Hubalek
Romance, 4.6 stars, 87 reviews
Rancher Moses Brenner needs to decide whether to stay working on his adoptive grandfather's ranch or pursue a new career. He leaves the ranch for a week to travel to western Kansas, hoping to find the graves of his parents, who were victims of a wagon train attack twenty years ago.
Faith Geller's life has been overshadowed by the graveyard in her family's pasture. She was too young to remember the attack that left several people, including some her own family, buried there, but it still haunts her aging widowed father…
Fifteen Postcards by Kirsten McKenzie
Mystery, 4.4 stars, 397 reviews
Determined to save the antiques store she has inherited from ruin after the unexplained disappearance of her parents, Sarah Lester discovers a jumbled collection of vintage postcards which lead her on a journey through time. Unprepared for the story the postcards weave about their reclusive former owner, Sarah's life is thrown into disarray as she is transported to Victorian London, colonial New Zealand and to the British Raj in nineteenth century India…
After the Climb (Special Edition) by Kristen Ashley
Romance, 4.5 stars, 2173 reviews
They were the Three Amigos: Duncan Holloway, Imogen Swan and Corey Szabo. Two young boys with difficult lives at home banding together with a cool girl who didn't mind mucking through the mud on their hikes. They grew up to be Duncan Holloway, activist, CEO and face of the popular River Rain outdoor stores, Imogen Swan, award-winning actress and America's sweetheart, and Corey Szabo, ruthless tech billionaire…
Witch Unleashed by Kate Allenton
Mystery, 4.5 stars, 178 reviews
I keep this supernatural island resort running smoothly. I smile at the complaining guests and accommodate their weird and unusual needs. It's my job. I'm the glue that keeps my brother and dad from feuding and scaring the others away. I've ignored my curiosity and the pull to explore the rest of the world for far too long. Twenty-four more hours and I'll wipe the fake smile off my face and set sail for my first off-island vacation. But my plans change when the unimaginable happens…
Blind Justice (Gareth Dawson Series Book 1) by Nathan Burrows
Thriller, 4.6 stars, 239 reviews
Gareth Dawson is innocent. He's not a murderer. His main problem is that the British justice system doesn't agree with him. He might be a reformed thief guilty of many things in his past, but not murder. In the space of a few short months, Gareth has gone from being married to the woman of his dreams to facing a life sentence. Inside Her Majesty's Prison Whitemoor, a Category A prison in Cambridgeshire, Gareth's got all the time in the world to go over the events that led to the guilty verdict…
A Monster Escapes by Lewis Wolfe
Horror, 4.3 stars, 39 reviews
When a dark force strikes the small town of Brettville, there is only one woman to call. Jane Elring knows what monsters look like. She stares them down on the regular, working as a paranormal investigator for the government. Her dark eyes find the deepest secrets; her unique mind comes up with plans others would never dare follow through. When you're faced with an ancient evil that only wants to consume, there is no room for debate. Sometimes it takes a monster to beat one, and Jane Elring has been called much worse.
The Cure by K. J. Kalis
Thriller, 4.3 stars, 156 reviews
A harrowing IED attack in Afghanistan has left Kat with debilitating PTSD even though everything else in her life seems normal. It's not something she talks about. Never. The secrets from her time overseas have stayed there. It's better that way… or at least she thinks so. One day, visiting her hospitalized mother-in-law, a mysterious man approaches her and offers Kat a cure for the cancer that is ravaging Laura's body and the heart of Kat's family…
The Seeds of Akara by David LaPiana
Science Fiction, 4.5 stars, 84 reviews
The universe has died. It has reached its eventual heat death and no further life processes are possible. But something has gathered all the sentient life-forms that had ever reached a reasonable level of complexity and placed them in a lattice-work sphere around a final star. The truth of their existence is known to a select few, and the ultimate reason for their existence is known to fewer still. When a nihilistic, malevolent force releases a pathogen designed to end all life, a young girl and some allies must get to the central world to keep her world from being destroyed to stop the spread of the virus.
Shadows in the Water by Kory M. Shrum
Fantasy, 4.4 stars, 1692 reviews
When DEA agent Jack Thorne's house is stormed by vengeful drug lords, both he and his wife are shot dead. Only his daughter Louie survives–by using a terrifying power that defies reason. Piecing together a life in his absence, Louie embraces her gift and her rage under the force of a single need: revenge. She will destroy the men that took her family. No matter the cost, no matter how many bullets, she won't stop until justice has been well and truly served.
In Pursuit of The Pale Prince: An Arestus Adventure by Mark Wallace Maguire
Children's eBooks, 4.3 stars, 56 reviews
Over 5,000 years ago, in the place you call Northern Europe, a battle was looming. The Southwen were marching north in search of land. The Northern Kingdoms were fragile and scattered and The Pale Prince was trying to unite them, seeking any symbol of hope, of past glory to rally his people. Hundreds of miles away, a man dies and leaves a crown to his son. A crown that can unite the Northern Kingdoms. But can the boy deliver it in time? Join him and find out.