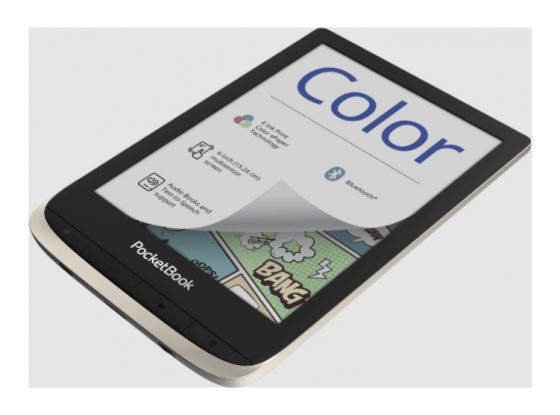 The PocketBook Color was one the first ebook readers to come with a color E Ink screen, and it's currently on sale for the lowest price yet at $189 with free shipping from Newegg.
The regular price for the PocketBook Color is $229 plus shipping so at $40 off it's a pretty good discount.
However, the PocketBook Color uses E Ink's first generation Kaleido screen and the color and clarity of the screen isn't quite as good as newer color E Ink screens like on the larger 7.8-inch PocketBook InkPad Color, but if you want a device with a color E Ink screen the smaller PocketBook Color is the least expensive option.
It has a 6-inch E Ink Kaleido screen with 300 ppi for text and 100 ppi for color content, plus a cool-colored frontlight. There's 16GB of storage space, plus a microSD card. It has WiFi and Bluetooth.
PocketBook's ereaders support a variety of formats, including CBR, CBZ, CHM, DJVU, DOC, DOCX, EPUB, FB2, HTML, MOBI, PDF, PRC, RTF, TXT, along with common image and audio formats, and they also support text-to-speech.
I still don't think there's much of a market for ereaders with smaller 6-inch color screens, so I wouldn't be surprised if this was a clearance sale and it's going to be discontinued in the near future, especially considering it's using an outdated color screen that's already been replaced with a better version.