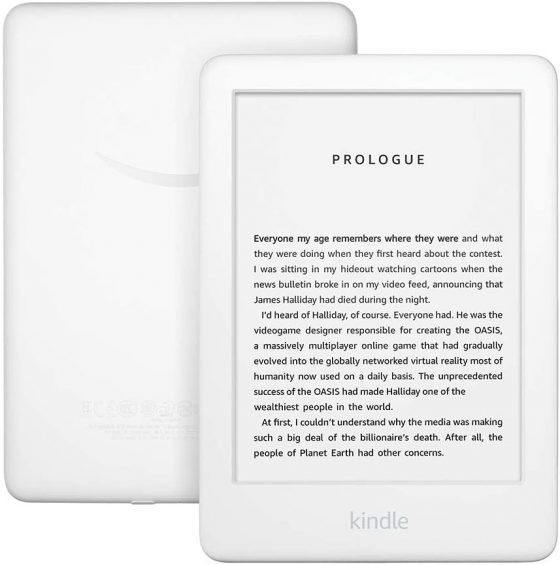 Below is a list of 10 free highly-rated Kindle ebooks, along with some Kindle ebook deals.
There aren't any Kindle ereaders on sale today, except the refurbished entry-level Kindles are marked down to $55 from $79.
Please note the free Kindle books listed below are free as of September 19th, 2021. Most of these titles are free for a limited time only and will expire in the next few days or hours before going back to the regular list price.
A good place to find more free Kindle books is on the free bestsellers list at Amazon.
You don't need to own a Kindle ebook reader or a Fire tablet to read these free ebooks; you can use free Kindle reading apps for iPad, iPhone, and Android devices, or use a computer or web browser.
Subscribe to The eBook Reader Blog to keep updated on future free ebooks posts, along with ebook reader news, reviews and how to guides, or you can follow this site on Facebook and Twitter to get updates.
Kindle Deals
Refurbished Kindle – $54.99
Popular romance reads for $2.99 or less on Kindle – 9/19 only
Get 20-40% off Kindle Unlimited Gift subscription
Kindle Unlimited Promos – Offers vary by account
Amazon First Reads – Free eBooks for Prime Members
Get 20% off New Kindle with Trade-in
10 Free Kindle eBooks
Vanilla Vengeance by Molly Maple
Mystery, 4.4 stars, 451 reviews
When Charlotte discovers a dead body her first day in the cozy town of Sweetwater Falls, she worries she may have made the wrong choice, moving from the big city to a small town. She was hoping for a family feel and a fresh start, not a shakedown from local law enforcement and an aunt who keeps disappearing right when danger nears. Sweetwater Falls is filled with loveable characters harboring dark secrets. Even though Charlotte is certain none of her new neighbors could possibly be the killer, she is beginning to learn that no one is above suspicion.
Mr. Mayfair by Louise Bay
Romance, 4.5 stars, 1165 reviews
My boyfriend is getting married. Okay, technically he's my ex-boyfriend. Two months ago he decided he wanted a break. I still thought he was my happily ever after. On any other day, knowing he was gone for good would be the worst thing that could possibly happen. But not today. Because not only is my boyfriend getting married—his bride is my best friend. And they've sent me an invitation. There's no way I'm going to attend. I don't care if it's in beautiful Scotland. Nothing and no one could convince me…
A Perfect Escape by M.L. Jameson
Suspense, 4.4 stars, 388 reviews
Megan Thomas wants to get lost–preferably in someone else's life. But can she really escape the terror of her past, to grab onto some hope of a future? Leaving Chicago and her mob-connected husband behind, she assumes a new identity. She planned her escape to the last detail–but she didn't plan on Smyth Parker. Smyth Parker is already lost. And he sure as hell doesn't need a complication like Megan Thomas in his life. He wants nothing from no one and expects to live out his life in solitude…
Falling & Uprising by Natalie Cammaratta
Science Fiction, 4.9 stars, 50 reviews
Serenity Ward is the golden girl of Kaycie. She never questioned her city's status as the last dry land on earth. The Establishment takes care of its citizens…or so she thought. But now she's seen the map. Why would they lie about other islands just beyond the horizon? In a city built on falsehood, figuring out who to trust is its own challenge, but Serenity pulls together a feisty group who all want the same thing—an end to the government which has hidden a world from them…
The Caves of San Pietro by Susan Gayle
Historical Fiction, 5.0 stars, 37 reviews
After he and his buddy survive the bloody landing on the beaches of Salerno, Frank Moster is more determined than ever to play a part in liberating his birth parents' homeland from the Nazi scourge. What he doesn't expect is that he'll become personally involved with an Italian family whose lives are being ravaged, first by the German occupation and now by the brutal fighting and deadly bombings on the heels of the Allied invasion – or that, for the second time in his life, he'll come face to face with the heartache and trauma of being orphaned at a very young age.
Girl Missing by Kate Gable
Mystery/Thriller, 4.4 stars, 137 reviews
When her 13-year-old sister vanishes on her way back from a friend's house, Detective Kaitlyn Carr must confront demons from her own past in order to bring her sister home. The small mountain town of Big Bear Lake is only three hours away but a world away from her life in Los Angeles. It's the place she grew up and the place that's plagued her with lies, death and secrets. As Kaitlyn digs deeper into the murder that she is investigating and her sister's disappearance, she finds out that appearances are misleading and few things are what they seem…
Secrets of Green & Gold by Jo Holloway
Fantasy, 4.5 stars, 102 reviews
Cara has never been normal, but she's about to change that. She finally learned to ignore the animals no one else sees and a new school is her chance to start over. She should have known it was doomed the minute she heard the first voice. Now there's a weird gleam in her dog's eye, two suspicious guys who keep turning up, and a voice in her head. While it tells her of a hidden race of immortal beings known as the Pyx, Cara does her best to ignore it. Fitting in is hard enough without voices of the local fauna chatting in her head…
Dream Big, Stella! by Ashley Farley
Saga Fiction, 4.5 stars, 1446 reviews
Stella's biological father is a nameless, faceless sperm donor. At least that's what her mothers have led her to believe. Imagine her surprise when she learns her father is none other than rock idol Billy Jameson, and that Billy has died and left Stella a historic inn on a sprawling farm in the mountains of Virginia. A city girl at heart, Stella can't imagine living anywhere but New York. Her first inclination is to sell the property. But the terms of Billy's will stipulate she manages the inn for three years before putting it on the market…
Cats! (Discover Your World Series) by Michelle and Kurt Zimmerman
Children's eBooks, 4.5 stars, 29 reviews
Cats are amazing creatures! Did you know cats can run up to 30 miles per hour? Or that cats can hear sounds that people and dogs can't hear? This book uses colorful photo illustrations and informative text to teach children about cats. Follow along as newborn kittens grow and develop into fully mature adult cats. Learn about their special abilities and unique characteristics. Bright, colorful photographs and large, bold text will keep young readers entertained and engaged.
The Deal (Off-Campus Book 1) by Elle Kennedy
Romance, 4.6 stars, 15496 reviews
Hannah Wells has finally found someone who turns her on. But while she might be confident in every other area of her life, she's carting around a full set of baggage when it comes to sex and seduction. If she wants to get her crush's attention, she'll have to step out of her comfort zone and make him take notice…even if it means tutoring the annoying, childish, cocky captain of the hockey team in exchange for a pretend date…