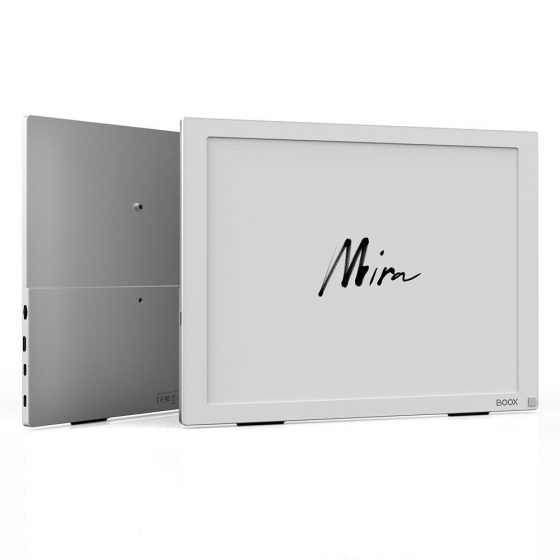 Onyx has a couple of new products to go along with their Android-powered E Ink ereaders and tablets that come in various sizes.
Now Onyx is getting into the E Ink monitor market with their new Mira series. There's a 13.3-inch Mira and a 25.3-inch Mira Pro. The Mira is available to order from Onyx's website for $799; the Mira Pro is listed at $1799 but it's not available to order yet.
The pricing strategy of these new monitors is a bit puzzling. Onyx's Max Lumi ereader and tablet sells for $879 and it has the same 13.3-inch screen as the Mira, except it adds a lot more features and it can also be used as a secondary monitor.
Onyx doesn't say how the Mira is better or if it's faster or what. It's kind of a mystery so far. There's just the video below that barely shows anything and a product page for the Mira Series without a lot of info.
They basically say the Mira Series offers adjustable refresh speeds and customizable refresh modes. There's a physical scroll wheel and a button to manually refresh the screen to get rid of ghosting, and there's a frontlight on the regular Mira along with a capacitive touchscreen, but not on the larger Mira Pro model.
There's also a note about the monitors not working with AMD GPUs currently so that's kind of a major problem.
Outside of releasing the Nova3 Color and the Nova Air, things have been pretty quiet from Onyx lately (last year they released 8 new ereader models), but now they're looking to expand into another niche market with these new E Ink monitors.
Mira Specs
Screen: 13.3" E Ink Flexible Mobius EPD, 16 Grey Level (monochrome)
Resolution: 1650×2200 (207ppi)
Touch: Capacitive touch
Front Light with CTM (Warm and Cold)
Port and Interface: Mini HDMI x1, USB Type C x 2, Standard VESA interface (75 x 75mm)
Display Panel Size: 308.4 x 231 x 8.0mm (5.6mm)
Display Panel Weight: ≤590g
Mira Pro Specs
Screen: 25.3" E Ink glass EPD ,16 Grey Level (monochrome)
Resolution: 3200×1800 (145ppi
Port and Interface: HDMI x1, Mini HDMI x1, USB Type C x 1, DP x 1, DC x 1 (12V, 3A), Standard VESA interface (75 x 75mm)
Speaker: Dual speakers
Display Panel Size: 594.2 x 349.2 x 26.5mm (11mm)
Display Panel Weight: ≤2750g
Stand Size: 222mm (117.2mm) x 152(126.4) x 380mm
Stand Weight: ≤2730g
Onyx Boox Mira E Ink Monitors