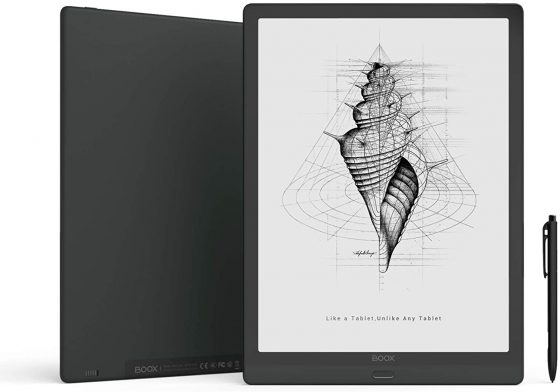 Yesterday Onyx announced the upcoming release of three new Boox devices, but in their presentation video they really only talked about one of the new models and didn't explain much about the other two, including the new 13.3-inch Boox Max Lumi2.
Onyx still doesn't have product pages up for their new devices, but they did post some tech specs on their website. The Max Lumi2 specs are listed below.
They also said pre-orders wouldn't start until October 27th, but today the Max Lumi2 is available to order on Amazon for $899 and it's now shipping.
The only thing is Onyx lists the price as $879 on their website so it's $20 more expensive on Amazon, but that's not unusual and it is being sold by Onyx's official store, not a 3rd party reseller.
Comparing the specs, it doesn't look like a lot has changed from the first gen Max Lumi. The new model comes with Android 11 instead of Android 10, but the hardware appears to be mostly the same.
The main difference is the new model has more RAM and storage space (up from 4GB and 64GB on the previous model), and they're using a newer processor that's slightly faster and more efficient, but most of the core specs remain the same.
The weight and over dimensions are exactly the same as before, and so is the battery size.
The Max Lumi2 appears to have lost the micro HDMI port so that's an area of concern when using the device as a secondary monitor, but the USB-C port could be used to accomplish the same thing so maybe that's what happening.
There's also a curious bit about the screen in the specs, saying it's a Carta 1250 screen, but they don't mention it being better in any way. You'd think if it had better contrast or faster refresh they'd say so.
Perhaps there are some additional changes they haven't mentioned yet, but this is all the info they've provided so far:
Max Lumi2 Specs
CPU: Updated Octa-core
RAM: 6GB LPDDR4X
Memory: 128 GB (UFS2.1)
Display: 13.3″ HD Mobius flexible Carta 1250 screen with flat cover-lens
Resolution: 2200×1650 Carta (207dpi)/Regal
Dual Touch: BOOX Pen Plus stylus touch + capacitive touch + front light with CTM
Light: Front Light with CTM (Warm and Cold)
Wireless Connection: 2.4G&5Ghz wifi
Bluetooth: BT 5.0
Battery: 4300mAh Polymer Li-on
Buttons: power, back button with fingerprint recognition
Slot USB: Type-C (support OTG)
Speaker: Yes
Mic: Yes
OS: Android 11
Format: pdf (reflowable), epub, Adobe DRM, txt, rtf, html, chm, doc, fb2, png, jpg, tiff, gif, bmp, wav, mp3
Features: TTS, Notes, Scribble, Dictionary, Calendar
Dimension: 310*228*7.9mm
Weight: 570g