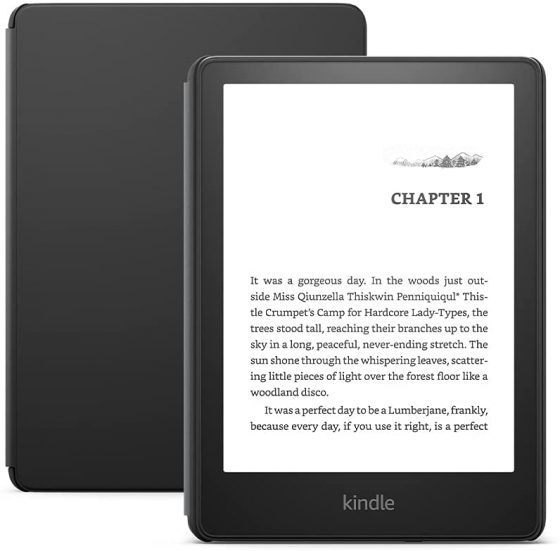 If you're in the market for the new 6.8-inch Kindle Paperwhite, Amazon has a really good early Black Friday deal going on right now.
There's only one catch: it's the Kindle Paperwhite Kids version that's on sale for $114.99. But like I've said many times before, there is no difference between a regular Kindle and a kids Kindle—it's just marketing.
In fact, the Kindle shown in my Kindle Paperwhite video review is this very same kids Kindle that's on sale.
The kids version of the new Paperwhite was already the best value Kindle, and now it's an even better deal at $45 off the regular price.
Unless you want the upgraded Signature Edition with 32GB, wireless charging, and auto-brightness, there is no reason to buy the regular 8GB Kindle Paperwhite over the kids version while it's on sale, not unless you're really bad at math and like spending extra for nothing.
The kids Kindle Paperwhite comes with a cover and an upgraded 2-year warranty for free, and it also doesn't have ads, so that alone makes it a better deal even when it's not on sale.
The only difference with the kids version is it comes with a 1-year Amazon Kids+ subscription, so you don't have the option to add 4 months of Kindle Unlimited for free like you do with the standard model (but you can get 2 months free anyway if you haven't signed up in a while). Functionally, any kids Kindle can be used as a regular Kindle and vice versa, so there's really no logical reason for choosing one over the other.
Amazon also has some covers on sale for the new Kindle Paperwhite. The leather cover is marked down to $29 ($10 off) and the fabric cover is $22.49 ($7.50 off).
Additionally, Amazon has the entry-level Kindle on sale for $49 again as part of their Early Black Friday Deals, and the kids version of it is also marked down to $59. They have some Kindle covers on sale as well.