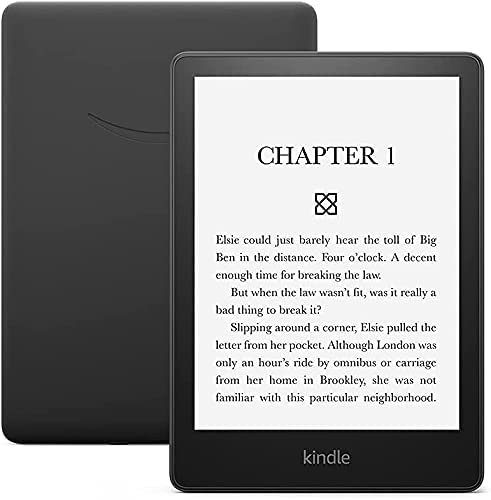 Amazon has surprisingly put the new Kindle Paperwhite 5 on sale for Black Friday less than one month after it was released.
The standard 8GB version of the new Kindle Paperwhite with ads is marked down to $104.99 with free shipping—it's $124.99 without ads. That's $35 off the regular price.
However, I still think the better deal is the Kindle Paperwhite Kids model for $114.99 because it's the same ad-free Kindle that's selling for $124.99 and it comes with a free cover and an upgraded 2-year warranty. Kids Kindles are no different than regular Kindles. See the video below for more details.
Amazon also has their fabric covers and leather covers for the new Paperwhite marked down by 25%.
The Kindle Oasis 3 is also on sale for $174.99 ($75 off) and the entry-level Kindle is $49.99. See the Black Friday deals list for all the ongoing ereader deals.
The upgraded Kindle Paperwhite Signature Edition is not on sale at the moment and is still full price, but maybe that will change for Cyber Monday weekend.
A lot of people were asking if Amazon would put the new Paperwhite on sale for Black Friday so soon after releasing it, and I wasn't sure if they would or not when they could just put the Paperwhite 4 on clearance, but it turns out they did, and oddly the Paperwhite 4 is still priced higher than last year.
These sale prices are really what separates Amazon from the competition. There have been several similar-sized ereaders on the market over the past half decade, and none of them have sold for anywhere close to $105. That's a great price for the new Kindle Paperwhite with a warm frontlight and a larger screen.
See my Kindle Paperwhite 5 review for a full rundown of Amazon's new Kindle, with a list of pros and cons.
Kids Kindle vs Regular Kindle