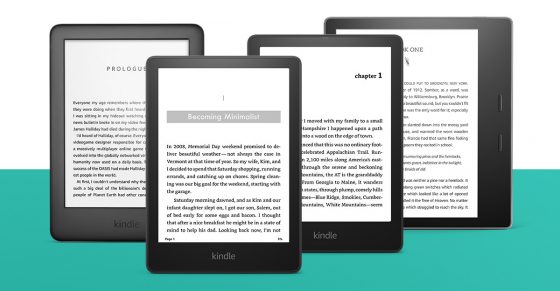 Below is a list of Black Friday deals for several different brands of ebook readers, including Kindles, Kobos, Onyx ereaders, and Pocketbooks.
Black Friday is kind of a sham at this point, but it's still one of the best times of the year to buy a new dedicated reading device, especially a Kindle. Then as soon as Black Friday ends, these same deals will suddenly turn into "Cyber Monday weekend" deals.
Keep in mind that some of these Kindle deals won't begin until Thursday, and if more show up I'll add them to this list.
Update: It's surprising to see Amazon has the new 6.8″ Kindle Paperwhite on sale less than one month after it was released, but the kids version is still the better deal because it comes with a cover, an upgraded warranty, and no ads for only $10 more, and it's the same exact Kindle otherwise.
I'm surprised the Kindle Paperwhite 4 isn't marked down further. The 8GB model is currently priced $5 higher than last year, and now it's been discontinued. However, the 32GB version is currently $5 cheaper than the 8GB version.
Kindle Deals
Kindle Paperwhite 5 – $104.99 ($35 off)
Best Deal: Kindle Paperwhite 5 Kids – $114.99 ($45 off) – (There's no difference between a kids Kindle and a regular Kindle functionally; the kids version just adds a cover and an upgraded warranty, plus it has no ads)
Kindle Oasis 3 – $174.99 ($75 off) 8GB model
Kindle Oasis 3 – $194.99 ($85 off) 32GB model
Kindle Oasis 3 – $264.99 ($85 off) 32GB model 4G LTE
Kindle – $49.99 ($40 off) Buy 2, save $20
Kindle Paperwhite 4 – $84.99 ($75 off) 32GB model
Kids Kindle – $59.99 ($50 off)
Other Kindle Deals
Get 20-40% off Kindle Unlimited Gift subscriptions
Get $6 Credit When Spending $25 on Kindle eBooks – Terms may vary by account, offer requires activation, ends Nov 28th
Kindle Paperwhite 5 Leather Covers – 25% off
Kindle Paperwhite 5 Fabric Covers – 25% off
Kindle Oasis Leather Covers – 25% off
Kindle Oasis Fabric Covers – 25% off
Kindle Fabric Covers – 20% off
Kindle Printed Covers – 20% off
Kobo Deals
Kobo Forma – $209 ($40 off)
Kobo Libra H2O – $149 ($20 off)
Kobo Clara HD – $99 ($20 off)
Kobo Nia – $79 ($20 off)
Onyx Boox Deals
Onyx is having a holiday sale on their previous generation devices that were just replaced. Prices are a bit cheaper directly from their website, but their return policy isn't nearly as customer-friendly as Amazon's so you may want to look into that first.
Onyx Note Air – $439.99 ($40 off)
Onyx Max Lumi – $839.99 ($40 off)
Onyx Note3 – $499.99 ($50 off)
Pocketbook Deals
Pocketbook InkPad Color – $285.00 ($44 off)
Pocketbook Color – $169.00 ($60 off)
Pocketbook Touch HD 3 – $139.00 ($20 off)
PocketBook InkPad X – $399.00 ($50 off)