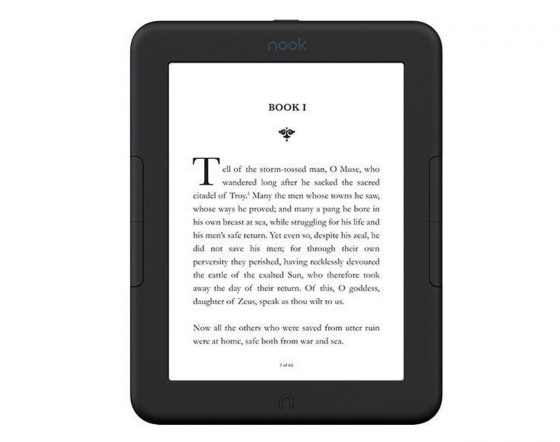 Today Barnes and Noble officially announced the upcoming release of a new Nook ereader.
The Nook Glowlight 4 is a refresh of Barnes and Nobles' 6-inch Nook. It replaces the Glowlight 3 that was released four years ago.
Not a lot has changed with the new model. They added a USB-C port and upgraded the storage capacity to 32GB.
The press release says it has a "sleeker, smaller lightweight design", but they neglect to list the weight anywhere on the product page. It measures 6.11″ x 4.72″ x ? compared to the Glowlight 3 at 6.93″ x 5″ x .38″. It still has page buttons on both sides of the screen, but they've been moved to the edge on the new model.
The Glowlight 4 has a 6-inch 300 ppi E Ink screen, and they're using the newer screens with improved contrast so that's a big plus. It also has a frontlight with adjustable color temperature.
Unlike the larger 7.8-inch Nook Glowlight Plus, there's no mention of the new Nook being waterproof or supporting audio. With 32GB of storage you'd think they'd add support for Nook audiobooks, but apparently not.
The new Nook Glowlight 4 is getting released on December 8th. It will be available in B&N retail stores and online for $149.99, and B&N members can get 10% off.
Here's an interesting quote from the press release:
"Barnes & Noble is now investing significantly in our NOOK line of products. The GlowLight 4 is the second NOOK device to launch this year as we set about to bring a new family of devices to our customers and to reinvigorate NOOK in the coming months and years," said Barnes & Noble CEO, James Daunt. "The team is working steadfastly to develop new NOOK products, and we are delighted to see such a strong pipeline of innovation into 2022."
It's good to see B&N sticking with Nooks moving forward. When the new ownership took over there were lots of questions about Nook's future, but now it looks like Nooks are here to stay. Hopefully they'll keep developing the software and adding new features.