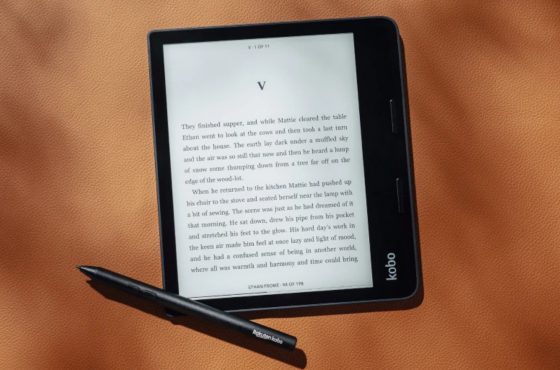 E Ink note taking devices have started becoming more and more popular in recent years, and there are companies like Onyx and Kobo that offer several devices that double as ereaders and E Ink note taking tablets.
So far Amazon has yet to show any interest in the E Ink note taking market, but could that change in 2022? What if Amazon were to release a Kindle with stylus support for marking up ebooks and taking notes?
Kobo released two new ereaders with note taking capabilities in 2021, the 10.3-inch Kobo Elipsa and the 8-inch Kobo Sage.
What's nice about the Kobo Sage is you can use it solely as an ereader if you want to; the stylus is sold separately so they're not forcing people to pay extra for a stylus if they don't want to use it.
Amazon could offer a similar device and it would help differentiate it from the Kindle Paperwhite line. They need to add more functionality to the higher-priced model instead of expecting people to pay $100 more just for page buttons and a metal back.
Either way something needs to change with the Kindle Oasis or whatever Amazon wants to call the premium Kindle moving forward. Right now it's considerably more expensive than the new Kindle Paperwhite and if offers less features (no wireless charging, no USB-C, no support for 5GHz WiFi, worse battery life). That can't go on much longer.
The last Kindle Oasis release was just a token upgrade that only changed the color of the frontlight—the design has remained unchanged since 2017. It's time for something new.
Amazon has a better infrastructure in place for things like syncing notes, cloud storage, and collaboration than their competitors so they could have a big advantage there.
Is it asking too much for Amazon to release a new 8-inch Kindle Oasis with note taking capability later this year?