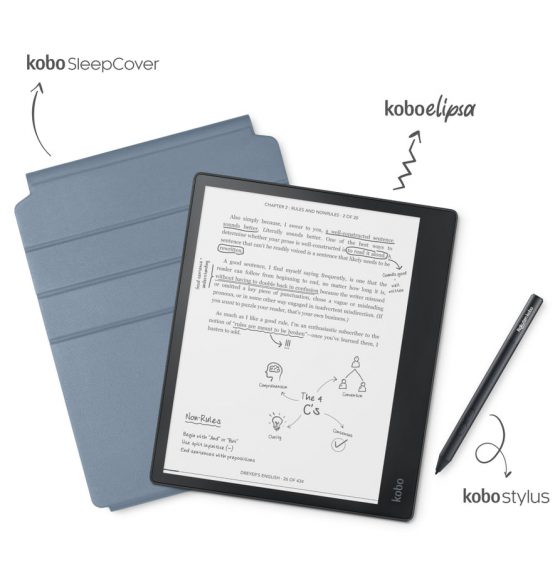 It's time for another round of sales on Kobo's ebook readers, and this time prices up to $80 off at Walmart.
The Kobo Elipsa pack is marked down to $319. It includes the Kobo Elipsa with a 10.3-inch screen, along with a case and a Kobo stylus. That's a heck of a good deal for a large screen ebook reader that also doubles as an E Ink notebook. I doubt it will stay that price for very long.
The Kobo Forma is also on sale and the price is lower than usual at $190. The regular price is $249 but it's mostly been selling for $209 since the newer kobo models were released. In some ways it's a better device than the newer Kobo Sage, provided you don't need note taking functionality, because it has better battery life and it's lighter and more durable with the E Ink Mobius screen.
Kobo's 6-inch models are both on sale as well. The Kobo Clara HD is marked down to $89 at Amazon and Walmart, and the Kobo Nia is $79. Like I always say, the Clara HD has a better screen and a better frontlight so it doesn't make sense to save $10 by buying the inferior Nia.
Unfortunately Kobo has yet to put their newer models on sale, the Kobo Sage and Kobo Libra 2, but their older models have been on sale quite frequently lately. This is the first time I've seen the Kobo Elipsa on sale, but it's being sold by a 3rd party vendor and is still full price at Kobo.