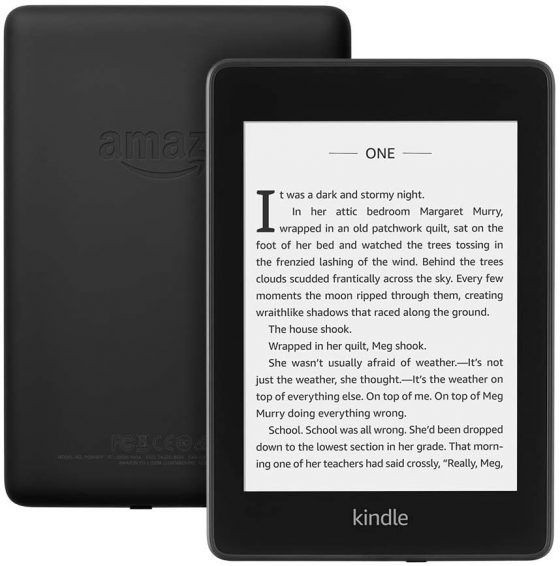 Here's a list of 10 free highly-rated Kindle ebooks for the weekend.
Amazon also has the new Kindle Paperwhite on sale for Valentine's Day and Woot still has some deals on previous generation Kindle Paperwhite models too. You can get a Paperwhite 3 for $35 or a Paperwhite 4 for $60. They have some covers available for them as well.
Please keep in mind the free Kindle books listed below are free as of February 5th, 2022. Most of these titles are free for a limited time only and will expire in the next few days or hours before going back to the regular list price.
A good place to find more free Kindle books is on the free bestsellers list at Amazon (but for some reason the list only appears on the desktop version of the site, not the mobile version).
You don't need to own a Kindle ebook reader or a Fire tablet to read these free ebooks; you can use free Kindle reading apps for iPad, iPhone, and Android devices, or use a computer or web browser.
Subscribe to The eBook Reader Blog to keep updated on future free ebooks posts, along with ebook reader news, reviews and how to guides, or you can follow this site on Facebook and Twitter to get updates.
Kindle Deals
Kindle Paperwhite 5 – $109.99 ($30 off)
Kindle Paperwhite Signature Edition – $144.99 ($45 off)
Kindle Paperwhite Kids – $119.99 ($40 off)
Kindle – $59.99 ($30 off)
Kids Kindle – $69.99 ($40 off)
Award-winning bestsellers starting from $0.99 on Kindle – 2/6 only
Kindle Paperwhite 4 – $59.99 refurbished
Kindle Paperwhite 3 – $34.99 refurbished
Kindle Paperwhite 1-3 Leather Cover – $19.99 refurbished
Kindle Paperwhite 4 Hunger Games Cover – $14.99 refurbished
Start reading a Kindle Vella story, get $5 credit – Offer not available for all accounts, expires 2/22
Buy 2 Kindles, Get $20 off – Use code 2PACK during checkout
Get 20-40% off Kindle Unlimited Gift subscriptions
Kindle Unlimited Promos – Offers vary by account
Amazon First Reads – Free eBooks for Prime Members
Get 20% off New Kindle with Trade-in
10 Free Kindle eBooks
Letter From The Dead by Jack Gatland
Mystery, 4.3 stars, 1977 reviews
When Victoria Davies was pushed off her stately home's roof in 2001, all evidence pointed to her husband Michael. But now, twenty years later a letter has appeared, written by Victoria before her death; a letter that was never received, and a letter that brings new suspects into the fray; Labour MPs Shaun Donnal, Andrew MacIntyre and Charles Baker. But two decades on, life has changed for these men…
Inventions, Researches and Writings of Nikola Tesla by Nikola Tesla, Thomas Commerford Martin
Nonfiction, 4.7 stars, 508 reviews
The Inventions, Researches and Writings of Nikola Tesla is a book compiled by Thomas Commerford Martin detailing the work of Nikola Tesla through 1893. The book is a comprehensive compilation of Tesla's pioneering activities, research, and works. The book contains 43 chapters, most of them on different areas of Tesla's research and inventions by Tesla. The ideas and inventions are conveyed in their own way, determining by their own place by intrinsic merit…
What Wonders Do You See… When You Dream? by Justine Avery
Children's eBooks, 4.7 stars, 155 reviews
The spellbinding style and alluring rhythm of Justine Avery's writing are brought to life by Liuba Syrotiuk's dreamlike watercolor illustrations to inspire children and adults to set aside the day's excitement and drift into the adventure of sleep itself. What Wonders Do You See… When You Dream? encourages calm and creativity, relaxation and imagination, and welcomes young and old alike to the blissful, magical time of bedtime.
Already Gone by Blake Pierce
Suspense/Thriller, 4.4 stars, 1561 reviews
FBI Special Agent and single mom Laura Frost, 35, is haunted by her talent: a psychic ability which she refuses to face and which she keeps secret from her colleagues. Yet as much as Laura wants to be normal, she cannot turn off the flood of images that plague her at every turn: vivid visions of future killers and their victims. And glimpses of what a killer may do next. Laura's talent leads her deep—too deep—into the twisted minds of serial killers, all while keeping crucial details agonizingly out of view…
Dead Folks' Blues: A Harry James Denton Novel by Steven Womack
Mystery, 4.3 stars, 132 reviews
Sharp-tongued journalist Harry James Denton just got divorced…and fired. Oops. In this thoroughly satisfying Edgar winner, our witty, wry, hardboiled protagonist is nothing if not adaptable: he sets up shop as a part time car repossessor and private investigator. Since he's new to both businesses, he's barely scraping by– until an old flame knocks on his door. Rachel Fletcher is Harry's college sweetheart, the cause of sleepless nights and years of wistful longing…
Her Unexpected Roommate by Laura Ann
Romance, 4.4 stars, 793 reviews
Genevieve Winters is finally seeing light at the end of a long, dark tunnel, when her sole living relative passes away. The situation leaves her alone in the world, but offers something she's always dreamed of. The opportunity to open a bed and breakfast, turning her broken down inheritance into a place of light and laughter. Her dreams crash, however, when a handsome stranger shows up claiming he owns half of the seaside mansion and he's not willing to sell. Cooper James couldn't believe his luck when his estranged grandfather left him a half ownership in home in Oregon…
An Enchantment of Thorns by Helena Rookwood, Elm Vince
Fairy Tales, 4.6 stars, 174 reviews
A fae beast. A wild beauty. A curse that could doom them both. As town greenwitch, Aster's dedicated her life to defending her people from the nightmarish fae of the forest. Yet despite her best efforts, each year a girl is taken as a tithe by the Beast who rules the Folkwood. None ever return. And this year, the Beast claims Aster. Trapped in a cursed palace, taunted by mischievous, invisible servants, Aster despairs of ever making it home. Then the Beast offers her a bargain—if she can restore his rose garden and break the curse on his court, he will set her free…
Everything Dies: Season One by T.W. Malpass
Horror, 4.3 stars, 184 reviews
The outbreak killed many and forced the rest to evacuate towns and cities. In the Midwestern United States, a refugee camp shelters hundreds of survivors from the harsh reality of the new world. But how safe are they? Some suspect that their military overseers aren't being completely honest with them. Others know more than they are willing to admit. The Graham family are about to have any semblance of security ripped away. Together with their new found allies, they will have to learn how to survive in the realm of the dead, where there's nowhere to hide and human flesh has become the ultimate prize.
Winter Princess: A Fantasy Reverse Harem Romance by Skye MacKinnon
Romantic Fantasy, 4.5 stars, 229 reviews
As a demigoddess, Wyn has always stood out from the human crowd. And now, on her 22nd birthday, her magic finally surfaces with a bang. A big bang. She'll need the help of not one, but four (sexy) Guardians to control her destructive powers. If only they weren't so distracting… Her mother, the Winter Queen, waits for Wyn in the Realms of Gods, but there are enemies who will try and prevent her from ever reaching the Realms, even if that means going to war…
ARISEN : Odyssey by Michael Stephen Fuchs
Science Fiction, 4.6 stars, 242 reviews
One Tier-1 Naval Special Warfare Operator, trained at the highest levels of any military, with 20+ years of operational experience. One ex-cop civilian survivalist, who lived through two years of post-Apocalyptic Hell, unlike 7 billion of her fellow humans. And an entire continent heaving with 400 million dead guys. To save the lives of his children, and rejoin Alpha team and the fight to save humanity, Homer will have to journey across a thousand miles of undead North America with Sarah Cameron, battling heavily armed bands of marauders who shoot first and ask questions never, and ultimately face down the remains of the world's last surviving SEAL team – now led by a malevolent and piratical monster…