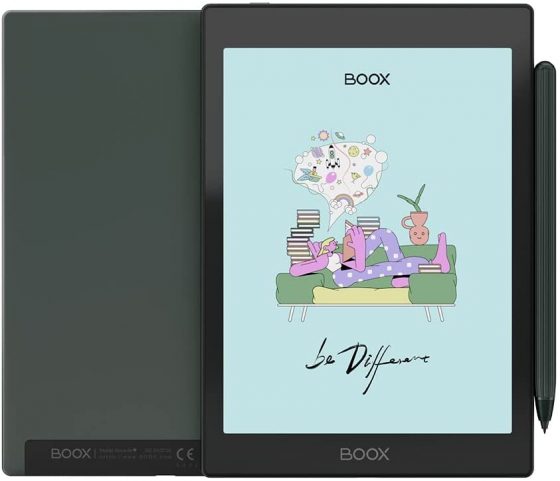 Last month Onyx announced the release of a new ereader called the Nova Air C that features a 7.8-inch color E Ink screen.
Initially it was only available to order from Onyx's website with shipping from China, but now the new Nova Air Color is also available to purchase from Amazon. The price is $419.99 and shipping is free.
I wonder if they decided to change the name to Nova Air Color, as shown on the product page at Amazon, from Nova Air C. Or maybe it's just a mistake because it's still called Nova Air C on Onyx's website.
Whatever it's called, the new device has a 7.8-inch Kaleido Plus screen with E Ink's new On-Cell touchscreen that improves contrast and color saturation. They claim it has 30% better contrast and 15% more color saturation (with the frontlight on) than the previous color screen.
However, E Ink just announced the release of new Kaleido 3 screens that are supposed to have 30% better color saturation than Kaleido Plus screens, so it's rather odd to see Onyx releasing a new color ereader that already has an outdated color screen.
Other than the screen, the Nova Air Color is basically the same as the regular Nova Air from a hardware standpoint. It has an octa-core CPU, 3GB of RAM, 32GB of storage space, Bluetooth 5.0, WiFi (dual band), USB-C, a 2000mAh battery, and it has a frontlight with both warm and cool color temperatures. The device also doubles as a notepad and comes with a stylus pen for drawing and notetaking.
From a software standpoint, the Nova Air Color runs Onyx's custom software that's based on Android 11. It's open to installing Android apps, including most reading apps, and it also has a built-in ebook app that supports most common formats, including ePubs and PDFs.